January 22, 2021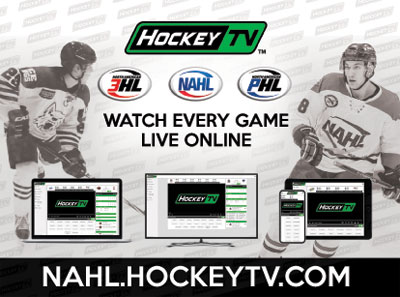 It is good to see a full schedule of games and that's what takes place again this weekend in the NAHL as 20 games fill the slate from Friday through Sunday.
Things got started early this week with several games during the week. This weekend features action in all four divisions.
It has been another good week of NCAA Division I commitments for the league as six more players made NCAA Division I commitments, bringing the current season total to 212 players who are committed to playing NCAA Division I hockey in 2020-21.
In the Central Division this weekend, the top team in the NAHL, the Aberdeen Wings, face a tough test as they travel to Marshall, MN, to take on the Fairbanks Ice Dogs from the Midwest. The St. Cloud Norsemen are in Bismarck to take on the Bobcats. The Austin Bruins are back at home after a close 5-4 loss to Fairbanks on Thursday to host the Chippewa Steel on Friday, then travel to Cloquet, MN to take on the Wilderness on Saturday. The Wilderness will then host the Kenai River Brown Bears on Sunday.
In the East, things get started early on Friday as Maryland and Maine finish out their two-game series, which saw Maine come away with a 3-2 shootout win on Thursday. The Danbury Jr. Hat Tricks return to the ice for the first time since November 5th as they travel to Johnstown for a two-game set. In the final series, New Jersey will be on the road Saturday and Sunday to face the Northeast Generals.
In the Midwest, Kenai River has a busy weekend with a series at the Minnesota Magicians on Friday and Saturday, followed by a game on Sunday against the Wilderness. The Fairbanks Ice Dogs will face a tough task as they host the Aberdeen Wings from the Central. The Chippewa Steel play just one game on the road on Friday at Austin. The Janesville Jets will be in action in exhibition games against the USHL's Green Bay Gamblers.
Finally, in the South, the top two teams in the division clash as Shreveport travels to Lone Star for a two-game series. The surging Amarillo Bulls, who have won three straight games, will play host to the Odessa Jackalopes, who have lost six straight games. The final series has Wichita Falls hosting New Mexico.
Watch all the action on HockeyTV
Download the all new NAHL App today! (iOS - Google Play)
FRI, JANUARY 22
Maine at Maryland - 12:00 PM EST
Danbury at Johnstown - 7:45 PM EST
Kenai River at MN Magicians - 7:00 PM CST
Odessa at Amarillo - 7:05 PM CST
Chippewa at Austin - 7:05 PM CST
New Mexico at Wichita Falls - 7:05 PM CST
St. Cloud at Bismarck - 7:15 PM CST
Aberdeen at Fairbanks - 7:30 PM CST
Shreveport at Lone Star - 7:30 PM CST
SAT, JANUARY 23
Danbury at Johnstown - 7:45 PM EST
Kenai River at MN Magicians - 7:00 PM CST
Odessa at Amarillo - 7:05 PM CST
New Mexico at Wichita Falls - 7:05 PM CST
St. Cloud at Bismarck - 7:15 PM CST
Aberdeen at Fairbanks - 7:30 PM CST
Shreveport at Lone Star - 7:30 PM CST
Austin at MN Wilderness - 7:35 PM CST
New Jersey at Northeast - 8:45 PM EST
SUN, JANUARY 24
New Jersey at Northeast - 6:15 PM EST
Kenai River at MN Wilderness - 7:15 PM CST