January 20, 2021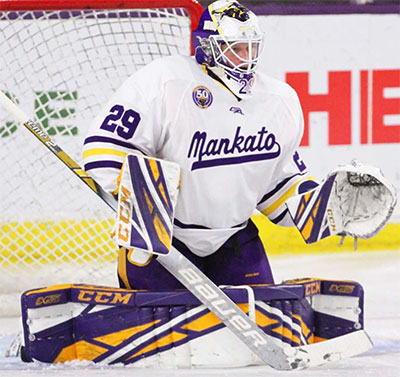 Atlantic Hockey Player of the Week: Mason Krueger, Army (Corpus Christi Ice Rays)
Mason Krueger was the top scorer in Atlantic Hockey last week, posting four points in a split with LIU. He netted his first goals of the 2020-21 season in Friday's 5-2 win over the Sharks, scoring the first three for Army, including the one that stood as the game-winner. It was Krueger's first-career hat trick and a natural one at that, scoring three straight as Army turned a 1-0 deficit into a 3-1 advantage. He added an assist in the following day's overtime loss.
Atlantic Hockey Defensive Player of the Week: John Zimmermann, Army (Lone Star/Fairbanks)
John Zimmermann was the top overall defenseman in the league last week, recording three assists and three blocks in a 1-1-0 weekend for the Black Knights. The senior notched two assists in Friday's 5-2 victory and another assist in Saturday's 3-2 overtime loss. He finished the weekend with an even rating.
Atlantic Hockey Goalie of the Week: Jake Kucharski, AIC (Austin Bruins)
Jake Kucharski won his only start of the week for AIC, but did it in fashion as he recorded his first career shutout in a 1-0 victory over Holy Cross. The Providence transfer stopped all 21 shots he faced to hold off the Crusader attack and put the Yellow Jackets back in first place in the league standings.
Hockey East Defensive Player of the Week: Connor Murphy, Northeastern (Topeka RoadRunners)
Connor Murphy (Hudson Falls, N.Y.) stopped all 37 shots he saw on Wednesday against New Hampshire to earn his first career shutout in a 7-0 victory. The sophomore netminder also earned his first career point while assisting on Jayden Struble's even-strength goal in the third period.
NCHC Goalie of the Week: Alex Aslandis, Western Michigan (MN Magicians)
Aslanidis had the best weekend of his young career, backstopping Western Michigan to a sweep of then-No. 4 St. Cloud State, while extending WMU's unbeaten streak to four games. In Friday's series opener he turned aside 21 shots and allowed only two goals in a 6-2 victory. The next night, he was even better, recording a career-high 28 saves and allowing only one goal in a 3-1 win. He also helped kill off both SCSU power plays in the series. Aslanidis finished the series with a 2-0-0 record, a .942 save percentage and a 1.50 goals-against average, totaling 49 saves on 52 shots. In the series, he upped his season save percentage from .854 to .888, while lowering his season GAA from 3.42 to 2.73. He also improved to 3-0-1 on the season as a starter, all during WMU's unbeaten streak, the first four starts of his career, and has posted a 1.71 GAA and a .928 save percentage in those four games.
WCHA Forward of the Week: Cade Borchardt, Minnesota State (Brookings Blizzard)
Minnesota State's Cade Borchardt led the WCHA with four assists, including one on the game-winning goal in Saturday's 6-2 victory at then-No. 19/RV Lake Superior State. Three of the Burnsville, Minn., native's helpers were on the power play, which tied for the NCAA lead in that category on the weekend. The sophomore is in the midst of four-game point-scoring streak with seven points on two goals and five assists in that span, which covers four Maverick victories. He leads Minnesota State in scoring on the season with 13 points on five goals and eight assists. This is Borchardt's first WCHA weekly honor.
WCHA Goaltender of the Week: Dryden McKay, Minnesota State (Corpus Christi/Springfield)
Minnesota State's Dryden McKay picked up nation-leading fifth shutout of the season in Friday's 3-0 win at then-No. 19/RV Lake Superior State. The win was his 19th career shutout, which ranks No. 2 in WCHA history and is tied for fourth all-time in the NCAA. The Downers Grove, Ill., native picked up a 6-2 win in the series finale with the Lakers on Saturday, extending his scoreless minutes streak to 217:37 before giving up a second-period power-play goal. The streak was the ninth-longest in WCHA history and the second 200+ minute streak of his career. McKay is now the only goaltender in WCHA history with two scoreless streaks of more than 200 minutes. This is his 16th career WCHA weekly honor and his second this season.
ECHL Goalie of the Week: Ryan Bednard, Greenville (Johnstown Tomahawks)
Ryan Bednard of the Greenville Swamp Rabbits is the ECHL Goaltender of the Week for Jan.11-17. It is the second time this season he has received the weekly honor after winning the award for the week ending Jan. 3.Bednard went 2-0-0 with a 2.92 goals-against average and a save percentage of .933 in two appearances last week. The 23-year-old made 30 saves in a 5-4 overtime win at South Carolina on Friday and turned aside 40 shots in a 4-1 victory against Jacksonville on Sunday.