January 14, 2021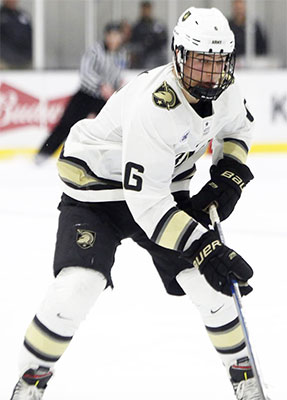 Atlantic Hockey Rookie of the Month: Carson Briere, Mercyhurst (Johnstown Tomahawks)
Carson Briere was the top scoring freshman in Atlantic Hockey during the month of December, totaling seven points in six games played. He had three goals and four assists, helping Mercyhurst play their first month of the season to a 2-3-1 record. Briere started slow, but ended on a hot streak, finishing the month with a four-point outing and leading Mercyhurst to a 7-4 win over Niagara.
Atlantic Hockey Goalie of Month and Goalie of the Week: Noah West, Robert Morris (Jamestown Rebels)
After starting just one of Robert Morris' first five games, Noah West assumed the goaltending role for the Colonials early in December and helped Robert Morris close the month winning three-of-four. Of goaltenders making more than one start, West led Atlantic Hockey in both goals against average and save percentage, while tying for most wins. He held Bowling Green to their lowest goal output of the season in a close 2-1 loss, but that was his only blemish of the month as he won his other three league starts. This past week, Noah West continued his strong stretch of games for Robert Morris as the Colonials pushed their win streak to six games. He, personally, posted a 2-0-0 record in three games played, and was second in both save percentage and goals against average in the AHA amongst goalies who made at least two starts. He totaled 87 saves on 95 shots faced and allowed two goals in each of his wins over Niagara.
Atlantic Hockey Player of the Week: Colin Bilek, Army (Northeast Generals)
Colin Bilek had a tremendous week for Army, posting seven points, on six goals and one assist, in three games against AHA-leading AIC. He had goals in all three games, putting an exclamation point on his week with his first career hat trick in a Black Knights' 5-3 win over the Yellow Jackets. Bilek's hat trick goal also went as the game-winner and gave the Riley family their 1000th win behind the bench at Army West Point.
Atlantic Hockey Defensive Player of the Week: Zak Galambos, AIC (Johnstown/Janesville)
Zak Galambos registered his first points in an AIC uniform this past week, totaling six points, on three goals and three assists, in a 2-1-0 week for the Yellow Jackets. He had two goals in a 6-3 win on the 6th, notched an assist on the overtime game-winner the following night, then came back with a goal and an assist in Sunday's 5-3 loss. Galambos also blocked three shots and finished +3.
Atlantic Rookie of the Week: Will Gavin, Air Force (Springfield Jr. Blues)
Will Gavin had at least a point in each of Air Force's games last week, carrying a point streak of four games into this week. Gavin totaled six points in those four games, registering two goals and four assists. He had a goal in the 4-3 overtime loss to Sacred Heart and another, plus two assists, in Air Force's 6-3 loss at Mercyhurst.
WCHA Goaltender of the Week: Mareks Mitens, Lake Superior State (Aston Rebels)
Lake Superior State senior goaltender Mareks Mitens led the Lakers to a weekend road non-conference sweep over Northern Michigan. Mitens recorded his third and fourth wins of the season with 27 saves in a 4-1 win on Friday and 32 stops on the Wildcats in a 3-2 overtime win on Saturday. The Ventspils, Latvia native stopped 59 of the 62 shots he faced to record a 1.50 goals against average and a .952 save percentage in the series. The Laker goalie led all WCHA netminders in both goals against average and save percentage this week and was one of two league goaltenders this week to record two wins. Mitens has now allowed two or fewer goals in all but one of his 10 appearances this season. Through the Lakers' first 10 games of the season, Mitens has a 1.57 goals against average and a .941 save percentage. This is Mitens' fourth WCHA weekly honor and second of the season.
WCHA Rookie of the Week: Tyrone Bronte, Alabama Huntsville (WBS Knights)
Alabama Huntsville's Tyrone Bronte led all WCHA freshmen this weekend with three points on two goals and one assist in the Chargers' home sweep of Ferris State. The Melbourne, Australia native's two power-play goals were the most amongst WCHA players overall this weekend. He had a weekend-high two points on one goal and one assist in the overtime win on Friday night. This is Bronte's second career WCHA Rookie of the Week award.