NAHL announces Bauer Hockey Stars of the Week
January 11, 2021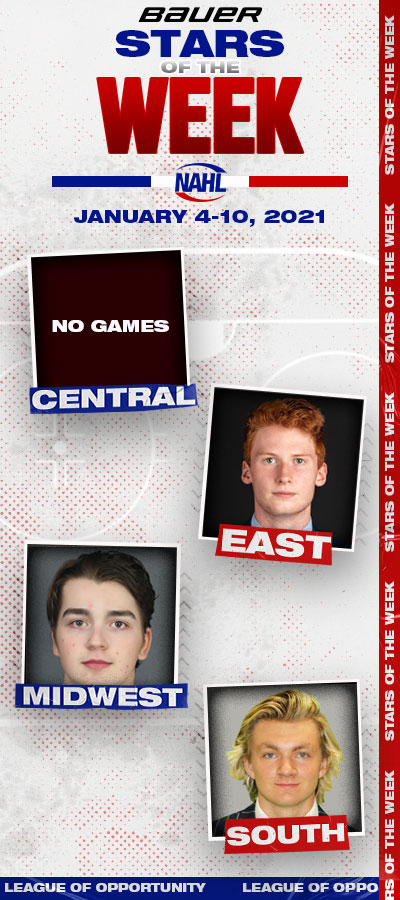 The North American Hockey League (NAHL) today announced the Divisional Stars of the Week presented by Bauer Hockey for the week ending January 10, 2021. The Divisional Stars of the Week is a weekly feature during the 2020-21 regular season that honors the top performing players in each of the four NAHL divisions. Only players that are nominated by their respective teams are considered for the Divisional Players of the Week award.
Watch: NAHL Stars of the Week highlights
Central Division Star of the Week: No Games
East Division Star of the Week: Jack Ford, Forward, New Jersey Titans
Even though he only appeared in one game this past weekend, New Jersey Titans forward Jack Ford, 18, made it count. The 6'1/185 lbs. native of Stamford, CT, played in his first game on Saturday since November 20th and put up two goals and two assists in a 9-2 win over the Maryland Black Bears. Ford also recorded the eventual game-winning goal in the 2nd period and was a +4 in the game. For the season, Ford has seven points in seven games played so far for the Titans. "We couldn't be prouder of Jack on his efforts. Jack hasn't been in the lineup much recently but responded to getting his opportunity. He has continued to work hard and improve. He wanted to make an impression and he did. He sparked our team in a much-needed game for our club. He went to the net and played hard and he was able to contribute a great deal to our offensive attack on Saturday evening. We are looking forward to Jack continuing his strong play next Friday night against Johnstown," said Titans head coach Craig Doremus.
2nd Star: Jack Brackett, F, Maryland Black Bears
Honorable Mention (alphabetical): Ricky Boysen, F, Northeast Generals – Bobby Metz, D, Northeast Generals – Stefan Owens, F, Maine Nordiques – Cooper Swift, D, Maine Nordiques
Midwest Division Star of the Week: Max Helgeson, Forward, Kenai River Brown Bears
Kenai River Brown Bears forward Max Helgeson, 20, had an explosive offensive weekend as the Brown Bears split their weekend road series in Janesville against the Jets. The 6'1/185 lbs. native of Anchorage, AK, put up six points (4 goals, 2 assists) in the two games and was a +3. On Friday, Helgeson had a goal and an assist in a 6-3 loss. On Saturday, he had a hat-trick in a 9-5 win. For the season, Helgeson currently leads the Brown Bears in scoring with eight points in six games played. "Max has been very good for our team over this past year and a half. His consistent work ethic and preparation was rewarded in production over this weekend. He's consistently putting time into his game to be a better player, which is continuing to pay off in his second season in the league," said Brown Bears head coach Kevin Murdock.
2nd Star: Tyler Herzberg, F, Fairbanks Ice Dogs
Honorable Mention (alphabetical): Andrew Garby, D, Fairbanks Ice Dogs – Devlin McCabe, F, Minnesota Magicians – Peter Morgan, F, Kenai River Brown Bears
South Division Star of the Week: Billy Feczko, Forward, Shreveport Mudbugs
Feczko, 19, played a big role in helping the Mudbugs continue their hot play in a weekend home sweep of the Wichita Falls Warriors. The 6'0/180 lbs. native of Palos Heights, IL, had four assists and was a +3 in the two wins. On Friday, Feczko assisted on the game-winning goal in a 3-1 win, and then on Saturday, he had three more assists in a 5-4 win. For the season, the former Team NAHL member is tied for 2nd in team scoring with 15 points in 16 games played thus far. "Billy has been a very consistent player for us this year. He's worked hard on developing his whole game over the last couple years and it's paid off early this season. It's exciting to know that Billy is still pushing himself to be better in order to make our team better," said Mudbugs head coach Jason Campbell.
2nd Star: Luke Johnson, F, Lone Star Brahmas
Honorable Mention (alphabetical): Vincent Corcoran, D, Wichita Falls Warriors – Nick Martino, F, Amarillo Bulls – Giovanni Procopio, F, Shreveport Mudbugs – Harrison Scott, F, Amarillo Bulls – Joey Trazzera, D, Lone Star Brahmas – Drew Vieten, F, Wichita Falls Warriors