January 6, 2021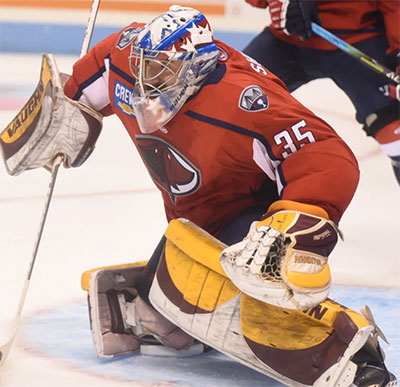 ECAC Goalie of the Week: Emil Zetterquist, St. Lawrence (Coulee Region Chill)
Zetterquist was phenomenal in net this weekend, helping the Saints go 1-0-1 against No. 12/13 Quinnipiac in their season-opening weekend. He stopped 70 of 74 shots that came his way, finishing the week with a 1.92 GAA, and .946 save percentage, which was good for first in the league. He helped limit Quinnipiac to 1-for-10 on the power play despite the Bobcats converting at nearly 30% coming into the weekend.
ECAC Rookie of the Week: Ethan Haider, Clarkson (Minnesota Magicians)
Haider led all ECAC Hockey goaltenders with a 1.62 GAA this week, going 2-0-1 in his three starts. The rookie was especially strong in his two starts against ECAC Hockey-foe Colgate, allowing just two goals over the course of the weekend.
Hockey East Player of the Week: Chase Blackmun, UMass-Lowell (Janesville Jets)
Chase Blackmun led Hockey East in goals (3), points per game (2), plus (+7), plus/minus (+5), and shots per game (5.50). He totaled three goals and one assist for four points in a sweep against Maine. Blackmun logged his first career hat trick on Monday night in a 9-5 win over the Black Bears, the first hat trick for a River Hawk defenseman since 2016.
Hockey East Defensive Player of the Week: Tomas Vomacka, UConn (Corpus Christi IceRays)
Tomas Vomacka stopped an eye-popping 98 of 101 shots he faced as he went 2-1-0 in three starts, with his second career shutout behind 37 saves against No. 15 Providence. He posted 30 saves to get a road win at UNH, 2-1, and made 31 stops in a 2-1 overtime loss to the Wildcats. His defensive performance backboned the Huskies to a seven-point week.
NCHC Goalie of the Week: Ludwig Persson, Miami (Lone Star Brahmas)
Persson continued his dominance in net, backstopping Miami to its first road sweep since January of 2016 with a pair of wins at Western Michigan. The December NCHC Goaltender of the Month gloved his third straight NCHC Goaltender of the Week nod after allowing only one goal in each game against the Broncos in Kalamazoo. In Saturday's series opener, Persson compiled 27 saves in a 3-1 victory, including a diving stop in the final minute with an extra Broncos attacker on the ice to preserve the win. In Sunday's finale, the Swede made 31 more saves, while helping kill off all four WMU power plays in a 5-1 victory. Persson finished the weekend 2-0-0 with a 1.00 goals-against average and a .967 save percentage after turning aside 58 of 60 shots against Western Michigan. On the season, the freshman ranks second nationally with a .963 save percentage and is fourth in the NCAA with a 1.13 GAA, both of which lead the NCHC, while he is now 4-2-1 in net on the season with two shutouts.
WCHA Goalie of the Week: Dryden McKay, Minnesota State (Springfield Jr. Blues)
Minnesota State junior Dryden McKay recorded back-to-back shutouts in backstopping then-No. 5/5 Minnesota State to 5-0 and 4-0 wins at Northern Michigan last weekend. The Downers Grove, Ill., native stopped all 37 shots fired on net by the Wildcats in the two-game set to give him four shutouts in six outings this season. His 18 career shutouts stand tied for seventh on NCAA's all-time list and rank second in WCHA history. This is McKay's 15th career WCHA weekly honor.
ECHL Goalie of the Month: Hunter Shepard, South Carolina (Bismarck Bobcats)
Hunter Shepard of the South Carolina Stingrays has been selected as the ECHL Goaltender of the Month for December. Shepard went 2-0-1 with a 1.89 goals-against average and a save percentage of .935 in three appearances during the opening month of the ECHL season. The 25-year-old allowed two goals or less in two of his three appearances while making at least 26 saves in all three games, including stopping 31 of the 32 shots he faced in a 2-1 victory at Jacksonville on Dec. 18 to earn his first professional win.
ECHL Goalie of the Week: Ryan Bednard, Greenville (Johnstown Tomahawks)
Ryan Bednard of the Greenville Swamp Rabbits is the Warrior Hockey ECHL Goaltender of the Week for Dec. 28-Jan. 3. Bednard stopped 26 of the 27 shots he faced in a 3-1 win against South Carolina on Friday. Under a National Hockey League contract with Florida, Bednard is 2-1-0 in four appearances with the Swamp Rabbits this season and ranks ninth in the ECHL with a 2.42 goals-against average and 11th with a .913 save percentage.