NAHL announces monthly player awards for December
January 5, 2021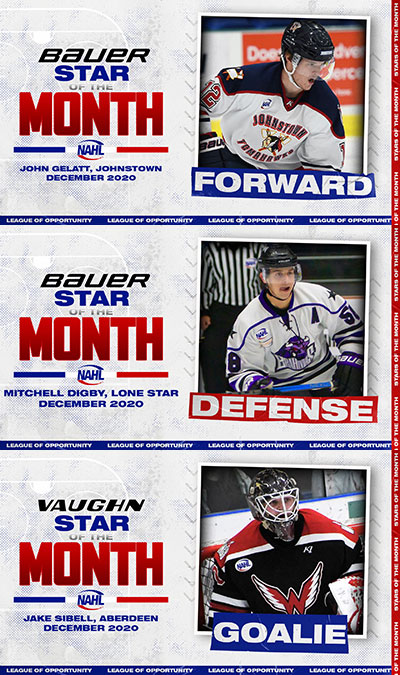 The North American Hockey League (NAHL) has announced its monthly player awards for the month of December. The Bauer Hockey NAHL Forward of the Month is John Gelatt from the Johnstown Tomahawks. The Bauer Hockey NAHL Defenseman of the Month is Mitchell Digby from the Lone Star Brahmas. The Vaughn NAHL Goaltender of the Month is Jake Sibell from the Aberdeen Wings. Only players who are nominated by their respective teams are considered for the NAHL monthly awards.
Bauer Hockey NAHL Forward of the Month: John Gelatt, Johnstown Tomahawks
Despite playing in four games during the month of December, Johnstown Tomhawks forward John Gelatt, 19, made an impact in each one of them to help the Tomahawks to the top of the East Division. The 5'11/190 lbs. native of Middletown, NJ, had nine points in four gamed during the month, which included seven goals and two assists. He also added two game-winning goals during the month and had two multi-point games. His 24 points current leads the Tomahawks in scoring this season and is 4th in the NAHL. "We had a short month of games in December, but it didn't stop John from continuing what he has done since Day 1 being a huge part of our team. He just always finds a way to impact the game in so many ways. He knows how to score, knows how to make plays around him, and is very responsible without the puck. For a first-year junior player he has been outstanding for us and I can't wait to see how much more he can do," said Tomahawks head coach Mike Letizia.
"It's been really helpful to play with guys that I am familiar with. Me and my linemates, Brendan Clark and Jay Ahearn, have been instrumental in our success and there a lot of chemistry there from having played together the year before. In addition, both my brothers played in the NAHL, so they gave me some good advice and gave me an idea of what it would be like. The big thing for me was to play with confidence," said Gelatt. "I want to play NCAA Division I hockey and get to the next level and I also want to bring the Robertson Cup to Johnstown. We have great and passionate fans and I think it would be great for the community."
Runner-Up: Andrew DeCarlo, Lone Star Brahmas
Honorable Mention (alphabetical): William Lawson-Body, Wichita Falls Warriors – Cade Neilson, Aberdeen Wings – Stephen Owens, Maine Nordiques – Ryan Taylor, Bismarck Bobcats
Bauer Hockey NAHL Defenseman of the Month: Mitchell Digby, Lone Star Brahmas
Lone Star Brahmas defenseman Mitchell Digby, 20, helped his club maintain their lead atop the South Division in December. The Air Force recruit and 5'10/185 lbs. native of Ottawa Lake, MI, had six points in eight games during the month of December, which included a goal, five assists and a +2 rating. Digby's 11 points so far during the 2020-21 season ranks tied for 3rd among all NAHL defensemen. "Mitchell has taken his game to a totally new level this season. He is a very responsible player at both ends of the ice. I think he understands that his unique offensive ability only works if he is responsible defensively, and that has definitely been the case this season thus far," said Brahmas head coach Dan Wildfong.
"There is definitely is a feeling of unfinished business from last year. I think all of us who were a part of the team last year feel like we could have won a Robertson Cup, so that is a big motivator this season. I think when we buy into the system and play the right way, we have a lot of success. It is a little different this season, because we have some younger guys, but hopefully we can continue to improve," said Digby. "I think it is important for me to continue to work with and listen to Dan Wildfong and the rest of our coaching staff on how to become a better player so when I get to Air Force next season, I am prepared and can make an immediate impact at the next level. I want to fine tune all the details the rest of the season so I can be at my best when I begin my NCAA career."
Runner-Up: Caden Lewandowski, Johnstown Tomahawks
Honorable Mention (alphabetical): Owen Baumgartner, Wichita Falls Warriors – Evan Orr, Odessa Jackalopes – Trevor Russell, Aberdeen Wings – Cooper Swift, Maine Nordiques
Vaughn NAHL Goaltender of the Month: Jake Sibell, Aberdeen Wings
Aberdeen Wings goalie Jake Sibell, 21, is having a season for the ages and that continued in the month of December. The 6'2/206 lbs. native of Isanti, MN, posted a perfect 3-0 record in three starts and allowed just two goals during the month. Sibell faced a total of 103 shots in 233 minutes of action and made 101 saves, while also posting two shutouts during the month of December. So far during the 2020-21 season, Sibell is currently the top goalie in the NAHL with a 1.28 goals against average and a .950 save percentage to go along with a perfect 14-0-0 record for the first place Wings. During the 2016-17 season, he played in the NAPHL for the Omaha AAA 16U team. "Jake has given us the ability to win in each of his starts to date. He is an extremely competitive player, both in practice and in games. This mentality helps drive him to be on top. Jake's turned himself into a special player through perseverance and hard work," said Wings head coach Scott Langer.
"I think my success along with the team's success so far this season comes from having an older team with a lot of veterans who understand how to play and navigate junior hockey. We have a great team defense that can shut opponents down and also a lot of guys that know how to score and create offense, so it really makes my job easier. I want to keep improving and help my team keep winning, but the next goal of mine is to get a degree and play in the NCAA. I love the game and want to keep playing as long as I can," said Sibell. "As for my time in the NAPHL prior to the NAHL, it was fantastic for exposure. I played on a really good team with a lot of prospects. All the events the NAPHL put on are great fun and you can see the scouts in the stands, so there is some pressure there for the first time, but it is good because it prepares you for the next level."
Runner-Up: Cameron Korpi, Bismarck Bobcats
Honorable Mention (alphabetical): Owen Bartoszkiewicz, Wichita Falls Warriors – Graham Burke, Lone Star Brahmas – Sam Evola, Johnstown Tomahawks – Connor Hasley, Odessa Jackalopes – Tyriq Outen, Maine Nordiques