NAHL announces Bauer Hockey Divisional Stars of the Week
January 4, 2021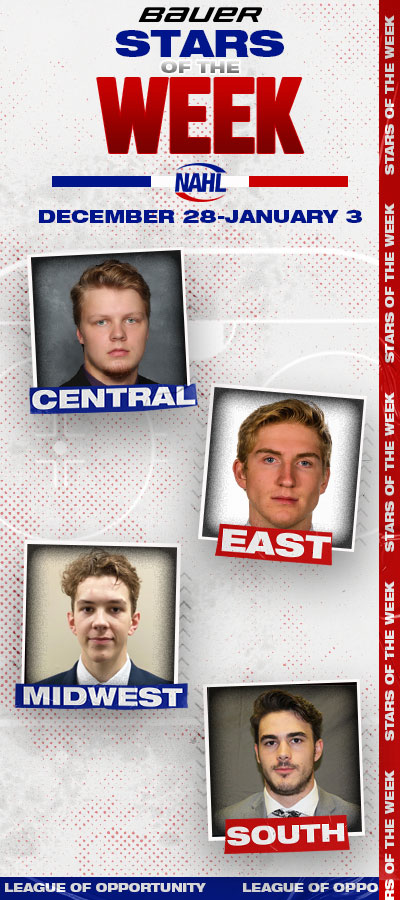 The North American Hockey League (NAHL) today announced the Divisional Stars of the Week presented by Bauer Hockey for the week ending January 3, 2021. The Divisional Stars of the Week is a weekly feature during the 2020-21 regular season that honors the top performing players in each of the four NAHL divisions. Only players that are nominated by their respective teams are considered for the Divisional Players of the Week award.
Watch: NAHL Stars of the Week Highlights for Dec. 28-Jan. 3
Central Division Star of the Week: Jake Sibell, Goaltender, Aberdeen Wings
For the second time this season, Aberdeen Wings goalie Jake Sibell, 21, has been named the Central Division's star of the week. This past weekend, the 6'2/206 lbs. native of Isanti, MN, led the Wings to two more wins as he stayed perfect on the season with a 14-0-0 record. On Friday, Sibell made 37 saves in a 4-1 win. On Saturday, he made 32 saves in a 3-1 win. Sibell is currently the top goalie in the NAHL with a 1.28 goals against average and a .950 save percentage. "Jake again allowed us to finish the weekend with four points. He is often put in situations that he had to keep us in the game, and like usual, he did just that. Jake's compete continues to be off the charts, and his talent level is impressive. Our team plays with strong confidence when Jake is in the net," said Wings head coach Scott Langer.
2nd Star: Payton Matsui, F, Aberdeen Wings
Honorable Mention (alphabetical): Will Magnuson, D, Bismarck Bobcats – Ryan Taylor, F, Bismarck Bobcats
East Division Star of the Week: Jay Ahearn, Forward, Johnstown Tomahawks
Johnstown Tomahawks forward Jay Ahearn, 19, exploded for huge offensive weekend as the Tomahawks picked up a weekend home sweep of the Northeast Generals. The 5'11/180 lbs. native of Staten Island, NY, had eight points in the two wins, which included four points each night. On Thursday, Ahearn posted two goals and two assists in an 8-0 win. On Friday, he recorded a hat-trick, including the game-winning goal and added an assist in a 6-0 win. His 23 points are currently 2nd on the Tomahawks roster. "Jay was really on his game this week helping us pick up two wins coming out of our break. He played with a purpose each shift and showed what he is capable of with five goals and assisting on three others. He has been great for us all season long and we are looking forward to more to come from him, and hopefully a well-deserved NCAA Division 1 commitment," said Tomahawks head coach Mike Letizia.
2nd Star: Sam Evola, Goaltender, Johnstown Tomahawks
Honorable Mention (alphabetical): None
Midwest Division Star of the Week: Bret Link, Forward, Fairbanks Ice Dogs
Fairbanks Ice Dogs forward and Alaska-Fairbanks commit Bret Link, 18, was instrumental in helping his team pick up a three-game road sweep of the Janesville Jets. The 6'2/180 lbs. native of Anchorage, AK, and NAPHL grad had six points in the three wins and recorded at least a point in all three games. On Thursday, Link had a goal in a 4-2 win. On Friday, he had a goal and two assists in a 4-2 win. Finally on Saturday, he had two assists in a 5-4 overtime win. "Bret has really matured and improved from last year to this year. He put a lot of work in this summer both on and off the ice. We have to lean on him for success now because he is a part of new veteran leadership. He is tough to play against and plays with a chip on his shoulder," said Fairbanks head coach Trevor Stewart.
2nd Star: Lleyton Roed, Forward, Minnesota Magicians
Honorable Mention (alphabetical): Gavin Best, F, Minnesota Magicians – Cade Destefani, F, Janesville Jets – Kayden Hargraves, G, Fairbanks Ice Dogs – Max Itagaki, F, Janesville Jets
South Division Star of the Week: Ryan Robinson, Forward, Wichita Falls Warriors
Wichita Falls Warriors forward Ryan Robinson, 19, helped his club to two wins in three games this past week. The 6'1/190 lbs. native of Plano, TX, who is committed to play NCAA Division I hockey at Arizona State, had three goals and an assist and was +3 in three games this past weekend. On Thursday, he had two goals, including the overtime-winner in a 5-4 win over the Amarillo Bulls. On Friday, he had a goal and an assist in a 4-1 win on the road against the Lone Star Brahmas. "Ryan has been really good for us all season and he has created a ton of scoring chances for himself and his linemates. His commitment to all three zones has been the most impressive part of his game. He has continued to lead by example and has been a huge part of our team success. His offensive production this weekend jump started our offense and was a big part of getting two wins. Ryan scored some big goals in timely moments for us this weekend and that's what big time players do for a team," said Warriors head coach Garrett Roth.
2nd Star: Blake Benson, F, Lone Star Brahmas
Honorable Mention (alphabetical): Graham Burke, F, Lone Star Brahmas – Hunter Carrick, D, Odessa Jackalopes – Eamon Doheny, D, Odessa Jackalopes – Greg Japchen, D, Amarillo Bulls – Cal Sandquist, G, Amarillo Bulls – Thomas Weis, F, Wichita Falls Warriors