January 1, 2021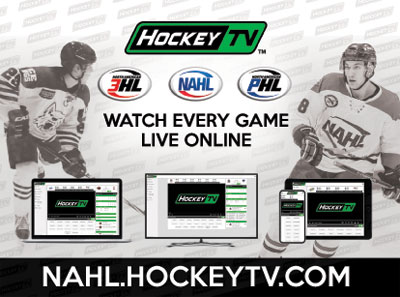 The first weekend of 2021 takes place this weekend as the NAHL returns from its holiday break.
This weekend sees the return of the NAHL's Midwest Division, along with some action in the Central, East, and South Divisions.
It was another great week for NCAA commitments as four more players announced their Division I commitments. This year's total now stands at 191 players who are playing in the NAHL in 2020-21 and have committed to NCAA Division I schools.
In the Central Division this weekend, things got started early on New Year's Eve on Thursday as Bismarck shutout Minot, 3-0 for the Bobcats third straight win. The Bobcats will face a tough task this weekend as they travel to Aberdeen to take on the 1st place Wings for a pair of games. Wings head coach Scott Langer is just a few wins away from becoming the all-time winningest coach in NAHL history.
In the East Division, there is just one series as the Northeast Generals face the Johnstown Tomahawks. The Tomahawks got the series started on the right foot with an 8-0 win on Thursday.
In the Midwest Division, teams returned to the ice on Thursday night as the Minnesota Magicians won their season debut over the Chippewa Steel and the Fairbanks Ice Dogs beat the Janesville Jets. The Magicians will face the Steel once more on Friday and then the Steel will host Kenai River on Saturday. The Ice Dogs will face the Jets two more times in Janesville on Friday and Saturday.
In the South, things got started early on Thursday as Wichita Falls upended Amarillo, 5-4 in overtime and Odessa doubled-up Shreveport, 6-3. The Warriors will take on the Lone Star Brahmas in a home-and-home series, while the Mudbugs will face the Jackalopes two more times. The weekend concludes with New Mexico at Amarillo in the lone NAHL game on Sunday.
Watch all the action on HockeyTV
Download the all new NAHL App today! (iOS - Google Play)
FRI, JANUARY 1
Northeast at Johnstown - 1:00 PM EST
Fairbanks at Janesville - 7:00 PM CST
MN Magicians at Chippewa - 7:10 PM CST
Bismarck at Aberdeen - 7:15 PM CST
Shreveport at Odessa - 7:15 PM CST
Wichita Falls at Lone Star - 7:30 PM CST
SAT, JANUARY 2
Fairbanks at Janesville - 7:00 PM CST
New Mexico at Amarillo - 7:05 PM CST
Lone Star at Wichita Falls - 7:05 PM CST
Kenai River at Chippewa - 7:10 PM CST
Bismarck at Aberdeen - 7:15 PM CST
Shreveport at Odessa - 7:15 PM CST
SUN, JANUARY 3
New Mexico at Amarillo - 3:05 PM CST