December 28, 2020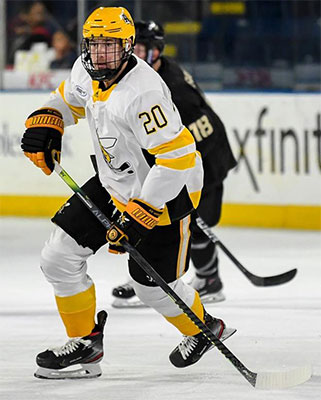 Atlantic Hockey Player of the Week: Tobias Fladeby, American International (Bismarck Bobcats)
Tobias Fladeby helped lead AIC to a flawless 3-0-0 week last week, extending the Yellow Jackets' win streak to open to season to five and earning them a ranking of #19 in the latest polls. Fladeby had four goals and an assist in the three games, leading Atlantic Hockey in goals scored and tying for the league lead in points scored. He had two goals twice, in wins over Army West Point on Tuesday, and Bentley on Saturday.
Atlantic Hockey Defensive Player of the Week: Michael Belivacqua, Mercyhurst (Corpus Christi IceRays)
Michael Belivacqua netted one goal, finished plus-1, and blocking seven shots in the Lakers' five-point weekend against Niagara. Belivacqua's goal on Friday spurred a stretch of six straight for Mercyhurst, turning a 4-1 deficit into a 7-4 victory. He also aided the Lakers' penalty kill efforts, where they went 7-for-7 on the weekend.
Atlantic Hockey Rookie of the Week: Carson Briere, Mercyhurst (Johnstown Tomahawks)
Carson Briere tied for the Atlantic Hockey lead in scoring with five points in Mercyhurst's five-point weekend against Niagara, recording three goals and two assists over the two games. He had a goal in Mercyhurst's 3-3 tie, and scored (unofficially) in the shootout to extend it to sudden death where the Lakers would earn the extra point. Briere then had two goals and two assists as Mercyhurst skated to a 7-4 victory.
B1G 3rd Star: Tommy Apap, Michigan State (Wichita Falls Wildcats)
Apap found the back of the net in both games to help Michigan State go 1-0-1 at No. 16 Notre Dame. He scored the Spartans' lone goal in the 1-1 tie on Saturday, before tying the game off a deflection with 22.9 seconds to play in the third period on Sunday. Apap paced the conference in points (2), goals per game (1.00) and plus-minus (+2) over the weekend.
Hockey East Defensive Player of the Week: Henry Welsch (Aberdeen Wings)
Welsch made 31 saves in a 2-1 win at UConn on Dec. 21. He is the first UMass Lowell goalie to win his collegiate debut since 2011 and the performance goes down as UMass Lowell's new Division I record for saves in a winning debut. In that Monday contest, he also stopped two breakaways late in the night with the game tied at 1-1.
NCHC Goalie of the Week: Ludvig Persson, Miami (Lone Star Brahmas)
Persson gloved Goaltender of the Week honors for the second straight week, allowing only one goal in his two starts, as he went 1-0-1 in his final week in the Pod. After shutting out Omaha the previous week, Persson recorded a second straight whitewash with a 26-save blanking of then-No. 8 Denver on Dec. 17, backstopping Miami to a 3-0 win. Two days later he made a career-high 38 saves in a 1-1 overtime tie against Colorado College. CC's goal late in the second period on Dec. 19 snapped Persson's shutout streak of 162:02, which spanned four games (Dec. 8-19). The Swede finished with a .985 save percentage during the week and a 0.48 goals-against average, both best in the NCHC during the final week of the Pod. He totaled 64 saves on 65 shots last week and now ranks fourth nationally with a .962 save percentage this season, while his 1.19 GAA ranks sixth in the NCAA on the year.