Saturday Scores: Norsemen snap Wings winning streak with shutout
December 20, 2020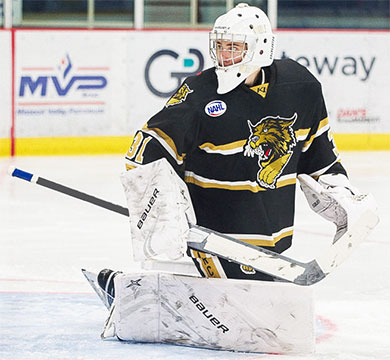 St. Cloud 4 @ Aberdeen 0 - Paxton Geisel denied all 39 shots fired in his direction as the St. Cloud Norsemen handed the Aberdeen Wings their first loss of the season, winning 4-0. Brett Chorske potted a pair of goals to headline the Norsemen offense. Jack Suchy had a goal and an assist while Jack Reimann also found the back of the net. Jack Sibell and Dominik Wasik combined to make 23 saves for Aberdeen.
Minot 0 @ Bismarck 4 - The Bismarck Bobcats finished off a sweep of the Minotauros as they blanked Minot 4-0. Cameron Korpi made 20 saves for the Bobcats to grab his first NAHL shutout. Jack Conroy and Grant Ahcan each picked up a goal and an assist in the win. Lars Rodne and John Gormley also found the back of the net for Bismarck. Keenan Rancier made 17 saves in the loss for Minot.
New Mexico 2 @ Wichita Falls 1 (OT) - Jack Whitmore's power play goal in overtime halted the New Mexico Ice Wolves' nine game losing streak as they outlasted the Wichita Falls Warriors 2-1. The Warriors got the first goal of the game about five minutes into the third period as Thomas Weis netted his sixth goal of the season. The lead would hold until the 14:51 mark of the final frame as Petr Philippov's first goal of the year tied the game at one. In the extra period, the Warriors were called for having too many men and that set up Whitmore's game winning tally. Beni Halasz stopped 38 shots for the Ice Wolves to earn his first win. Owen Batoszkiewicz took the loss as he made 37 stops.
Amarillo 3 @ Shreveport 4 (OT) - Chris Hedden needed just 18 seconds in overtime to win the game for the Shreveport Mudbugs as they edged the Amarillo Bulls 4-3. Matt Weber scored twice for Shreveport while Jacob Onstott had a goal and an assist. Cole Hudson turned aside 23 shots as his record improved to 7-0-2 on the season. Cooper Fensterstock, Ty Black and Jordan Venegoni all lit the lamp for Amarillo. Cal Sandquist was dealt the loss in goal as he made 22 stops.
Lone Star 2 @ Odessa 1 - The Lone Star Brahams salvaged a victory in the third and final game of their series with the Odessa Jackalopes, winning on Saturday night 2-1. Luke Johnson scored both goals for Lone Star while Nicholas Niemo and Andrew DeCarlo each picked up two helpers in the win. Tyler German scored the lone goal for Odessa with Dayne Hoyord and Adam Kolcon picking up the assists. Graham Burke was nearly perfect, stopping 22 of 23 shots to win his 10th game of the year. Noah Rupprecht made 30 saves in the loss for Odessa.