December 18, 2020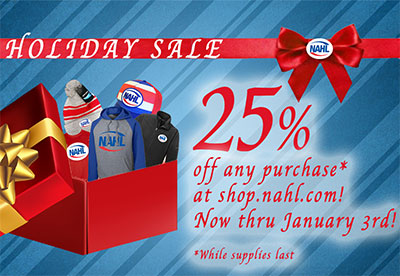 The NAHL has 10 games this weekend as teams prepare for a lengthy and well-deserved Christmas break.
It was another great week for NCAA commitments as four more players announced their Division I commitments. This year's total now stands at 184 players who are playing in the NAHL in 2020-21 and have committed to NCAA Division I schools.
In the Central Division, the suddenly hot St. Cloud Norsemen, who have won back-to-back games, will face the tall task of trying to hand the Aberdeen Wings their first loss of the season. The Wings, who lead the NAHL with a 14-0 record, have outscored their opponents 73-19 this season and head coach Scott Langer is just three wins away from breaking the all-time NAHL record for wins by a head coach. The other series in the Central has the battle of North Dakota resuming as Bismarck hosting Minot for a pair of games.
The other action this weekend is in the South where the Odessa Jackalopes got off to a successful early start to the weekend with a 2-1 overtime win over division-leading Lone Star on Thursday night. The win moved the 3rd place Jackalopes back to .500 for the season. The two teams will tangle twice more this weekend in Odessa. The Amarillo Bulls get back to the ice as they travel East to take on the red-hot Shreveport Mudbugs, who are 7-0-1 in their last eight games and 8-1-1 overall. The final series has the New Mexico Ice Wolves in Wichita Falls to face the Warriors as New Mexico is trying to snap an 8-game losing skid.
Watch all the action on HockeyTV
Download the all new NAHL App today! (iOS - Google Play)
FRI, DECEMBER 18
New Mexico at Wichita Falls - 7:05 PM CST
Amarillo at Shreveport - 7:11 PM CST
St. Cloud at Aberdeen - 7:15 PM CST
Minot at Bismarck - 7:15 PM CST
Lone Star at Odessa - 7:15 PM CST
SAT, DECEMBER 19
New Mexico at Wichita Falls - 7:05 PM CST
Amarillo at Shreveport - 7:11 PM CST
St. Cloud at Aberdeen - 7:15 PM CST
Minot at Bismarck - 7:15 PM CST
Lone Star at Odessa - 7:15 PM CST