Jackalopes edge Brahams in OT on Thursday, 3-2
December 18, 2020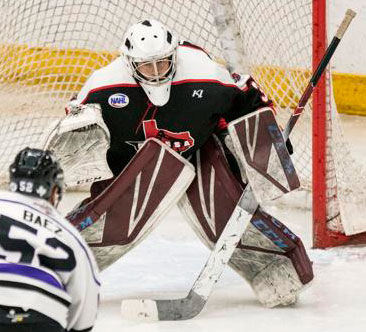 Lone Star 1 @ Odessa 2 (OT) – The Odessa Jackalopes played in their third straight overtime game on Thursday night and this time, they ended up on the right side as they defeated the South Division-leading Lone Star Brahmas, 2-1 at the Ector County Coliseum.
Much of the opening half of the game was a goaltending duel between Connor Hasley of the Jackalopes and Rico Dimatteo of the Brahmas.
The second period was much the same with both goalies being called upon to make tough stops to keep the game scoreless. The Jackalopes finally broke though in the later stages of the period. Streaking up ice, Jacks forward Lucas Coon skated in over the blue line at center then peeled off to the right side. When he was at the top of the right-circle he let go a hard wrist shot back towards the left side of the net. The shot found it's way in the Coon's second tally of the season put the Jacks up 1-0 going into the third period.
A 1-0 lead was not enough however against one of the more prolific offenses in the North American Hockey League. Though held in check for most of the night, it was only a matter of time before they broke through. Lone Star tied the game off a deflected shot from the point by Andrew DeCarlo with just over five minutes to play in regulaton.
Coming into Thursday Lone Star had never lost a post-regulation game this season and Dimatteo held a perfect 4-0 record. Not to mention the Brahmas were riding a five-game unbeaten streak. All that came to an end in just over two minutes of extra time. The Jackalopes received a power play in the opening seconds and worked a four-on-three advantage right down its the final seconds. On a broken play in front, Joey Musa took a shot from the high slot that was blocked. Following through with his shot, Musa picked up the puck and skated to his right near the circle. Spying forward Alex Konovalov all alone at the side of the net, Musa sent a perfect backhand pass to Konovalov who made shot the puck into a wide-open net for his first as a Jackalope and the game-winner.
Hasley would end up making 23 svaes in the win, while Dematteo made 29 saves in the loss. The 2-1 victory marked the first Odessa win over Lone Star since January 25, 2019. The win also solidified the Jackalopes hold on third place in the South Division.