Northeast forward Schuett makes NCAA D1 commitment
December 10, 2020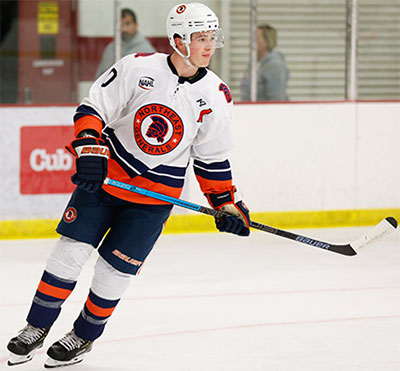 The Northeast Generals of the North American Hockey League (NAHL) are proud to announce that captain and forward Dylan Schuett has committed to play NCAA Division 1 hockey at Long Island University for the 2021-22 season.
Schuett, 20, is in his third full season playing in the NAHL as a member of the Generals and his second year wearing the "C" for the team.
The 6'1/218 lbs. native of Medicine Hat, Alberta played in 48 games for the Generals during the 2019-20 season and put up 29 points (10 goals, 19 assists). In 13 games so far in the 2020-21 season Schuett has 12 points in 13 games (3 goals and 9 assists).
Schuett made his NAHL debut during the 2017-18 season with the Brookings Blizzard. He was later traded to the Generals during the 2018-19 season. In 106 career NAHL games he has recorded 53 points.
"I am so excited and proud of Dylan. I wish people could understand just how hard he works. It is amazing. He is a freak in the gym, he skates on every extra sheet of ice he can get, he uses the RHA Skills Center every day and loves to break down video. It's no secret why he has improved so much in the past 3 years. It is all on him. He put in the work, the thousands of hours in the weight room and on the ice. He also does everything a Captain should do and more. We have been very lucky to have had amazing Captain's going into our 5th year (Colin Bilek – West Point, Matt Rutigliano – Skidmore, Joe Nagle – UNH). Our locker room has always been a real point of pride for myself and our owners (Bob Penfield and Rich O'Dowd) and Dylan drives the room. He keeps the guys loose, but also holds them accountable," said Head Coach Bryan Erikson.
"Dylan encompasses everything we want in a Generals player. He is selfless, hard working and kind. He does a ton of community service as well and works at the New England Sports Village doing skills on and off ice with the Rapid Hockey Academy. He just checks all of the boxes a team and school want both on and off the ice. And LIU is the perfect school for him. Coach Riley is building something really special in Long Island. And we know this will allow Dylan the chance to continue to improve without the weight of a commitment sitting on his shoulders. We expect him to have a breakout year and be able to step on the LIU campus and be a huge contributor from Day 1. We are excited to continue to build our relationship with such a great hockey program, Coach and person in Coach Riley," continued Erikson.
Click here for an updated NAHL to NCAA commitment list