Nordiques edge Generals in OT on Wednesday, 4-3
December 10, 2020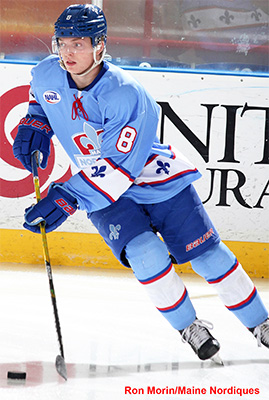 Northeast 3 @ Maine 4 (OT) – In a seesaw, back and forth game, the Maine Nordiques were able to move back into a tie for 1st place in the East Division thanks to a 4-3 overtime win on Wednesday over the Northeast Generals. University of Maine recruit had the overtime-winning goal and an assist to aid in the win.
The game was even throughout regulation, with each club scoring a goal in each period. Maine took a 1-0 lead in the 1st period on Isaiah Fox's 7th goal of the year. That was answered by Jonathan Young of the Generals to make it 1-1.
The Generals took their first lead of the game midway through the 2nd period as Ricky Boysen scored his 2nd goal of the season. That was answered by Maine defenseman James Philpott, who scored his 3rd goal of the year to make it 2-2.
In the 3rd period, Maine took a 3-2 lead on a power play goal from Cannon Green. However, that was answered by a goal from Liam McCanney, who scored with less than a minute remaining in regulation to make it 3-3 and send the game to overtime.
Less than two minutes into overtime, Gaulin went coast-to-coast for the game-winner.
Maine goalie Tyriq Outen made 41 saves in the win, while Generals goalie Hugo Haas made 37 saves in the loss.
Boxscore