NAHL announces Bauer Hockey Stars of the Week
December 7, 2020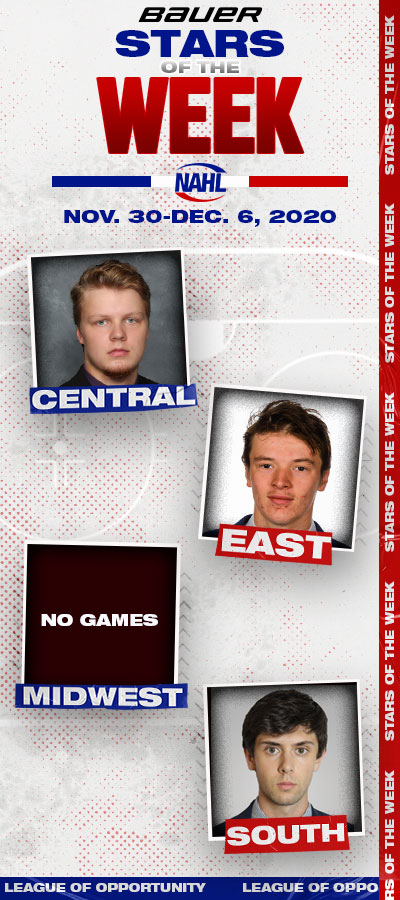 The North American Hockey League (NAHL) today announced the Divisional Stars of the Week presented by Bauer Hockey for the week ending December 6, 2020. The Divisional Stars of the Week is a weekly feature during the 2020-21 regular season that honors the top performing players in each of the four NAHL divisions. Only players that are nominated by their respective teams are considered for the Divisional Players of the Week award.
Watch: NAHL Stars of the Week highlights for Nov. 30-Dec. 6
Central Division Star of the Week: Jake Sibell, Goaltender, Aberdeen Wings
Aberdeen Wings goalie Jake Sibell, 20, continued his torrid start as he backstopped his team to a pair of road wins this past weekend in Bismarck. The 6'2/206 lbs. native of Isanti, MN, allowed just a single goal as the Wings picked up a pair of wins to move their record to a still perfect 14-0 this season. On Friday, Sibell stopped all 29 shots that came his way in a 7-0 shutout win, which was his third shutout of the season. On Saturday, he made 33 saves and stopped both Bobcats shooters in the shootout in a 2-1 shootout win. For the season, Sibell is a perfect 11-0 with a 1.44 goals against average and .942 save percentage. "Jake has truly been the backbone of our early success. He is an extremely hard-working individual that truly cares about his teammates. Jake's performance this weekend allowed us to compete against a very good team and continue the streak we are on," said Wings head coach Scott Langer.
2nd Star: Keenan Rancier, G, Minot Minotauros
Honorable Mention (alphabetical): Barrett Brooks, F, Austin Bruins – Carson Riddle, F, Austin Bruins – Natan Vertes, F, Aberdeen Wings
East Division Star of the Week: John Gelatt, Forward, Johnstown Tomahawks
Johnstown Tomahawks forward John Gelatt, 19, played a big role in helping the Tomahawks split their weekend road series in Maine against the Nordiques. The 5'11/190 lbs. native of Middletown, NJ, scored four goals on the weekend and was +2 in the two games. On Thursday, Gelatt had one of two Johnstown goals in a 6-2 loss. On Friday, he had a hat-trick in a 4-1 win. For the season, Gelatt leads the Tomahawks in scoring with 17 points in 13 games played. "John has been outstanding for us all season long. In his first year, he has shown that he has the ability to be a top end player in our league. He definitely knows where the net is, but he is committed to playing the game the right way all 200 feet. When we needed a big win on Friday, he stepped up with a hat trick for us to lead the way. I eagerly look forward to seeing how his game continues to evolve this year," said Tomahawks head coach Mike Letizia.
2nd Star: Evan Werner, F, New Jersey Titans
Honorable Mention (alphabetical): Brendan Clark, F, Johnstown Tomahawks – Grady Friedman, F, Maryland Black Bears – Sean Kilcullen, D, Maryland Black Bears
Midwest Division Star of the Week: No Games
South Division Star of the Week: Rico DiMatteo, Goaltender, Lone Star Brahmas
In his first action of the 2020-21 season, Lone Star goalie Rico DiMatteo, 19, made the most of his opportunity this weekend as he led his team to three wins over the New Mexico Ice Wolves. On Friday, the 6'3/175 lbs. native of Brasher Falls, NY, made his NAHL debut as he entered the game midway through the 1st period and went onto made 13 saves in a 6-4 win over the Ice Wolves. The next night, he made his first start of the season and made 33 saves in a 3-1 win. On Sunday, he made 20 saves in a 5-1 win to complete a perfect three-win weekend. "Rico dealt with some injuries early in the season and it was good to see him have a breakout weekend. He was the backbone of the wins and we hope this is the start of continued success for him in the NAHL," said Brahmas head coach Dan Wildfong.
2nd Star: Andrew DeCarlo, F, Lone Star Brahmas
Honorable Mention (alphabetical): None