December 4, 2020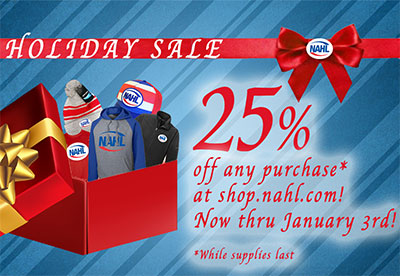 The NAHL Weekend Preview returns after a weekend off for Thanksgiving. The NAHL gets back into action as the first weekend in December features 11 games.
It was a huge week for NCAA commitments for NAHL players as seven players made NCAA Division 1 commitments this past week. The current season total stands at 167 players who are on 2020-21 NAHL rosters that are committed to play NCAA Division 1 hockey.
There are two big Central Division showdowns this weekend. First, the 12-0 and 1st place Aberdeen Wings put their undefeated record on the line as they take to the road to face the Bismarck Bobcats. The Wings are 4-0 against the Bobcats so far this season. The other series features the Minot Minotauros hosting the Austin Bruins.
In the East Division, things got started on Thursday night as the Maine Nordiques returned after a three-week layoff to defeat the Johnstown Tomahawks, 6-2. Defenseman Casper Soderling had two goals and goalie Tyriq Outen had 55 saves. The two teams finish their two-game series on Friday. The Maryland Black Bears, who are 4-0-1 in their last five games, host the New Jersey Titans for two games on Friday and Sunday this weekend.
In the Midwest Division, the Janesville Jets will take on the USA NTDP 17-team in a pair of exhibition games.
In the South Division, there is just one series as the 1st place Lone Star Brahmas will face the New Mexico Ice Wolves in a three-game set.
Watch all the action on HockeyTV
Download the all new NAHL App today! (iOS - Google Play)
FRI, DECEMBER 4
Johnstown at Maine - 1:00 PM EST
New Jersey at Maryland - 7:30 PM EST
Aberdeen at Bismarck - 7:15 PM CST
Lone Star at New Mexico - 7:30 PM CST
Austin at Minot - 8:05 PM CST
SAT, DECEMBER 5
Austin at Minot - 7:00 PM CST
Aberdeen at Bismarck - 7:15 PM CST
Lone Star at New Mexico - 7:30 PM CST
SUN, DECEMBER 6
Lone Star at New Mexico - 4:00 PM CST
New Jersey at Maryland - 8:30 PM EST