Grainer leads Tomahawks to shootout win in NAHL debut
November 30, 2020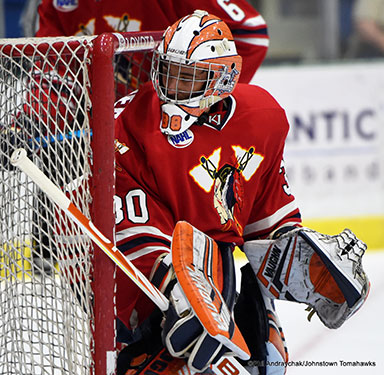 Johnstown 3 @ New Jersey 2 (SO) – Tomahawks rookie goaltender Peyton Grainer got the shootout win in his NAHL debut Sunday afternoon as the Tomahawks faced off against the New Jersey Titans in Middletown.
The 1st period started off slow with not much action from either side. At the 17:41 mark of the period, Tomahawks forward Jared Gerger opened the scoring to give the Hawks the lead, going into the intermission ahead, 1-0.
The 2nd period started with New Jersey's Jake LaRusso knotting the game for the Tians with assists from Connor Pelc and Levente Keresztes. As the period went on, there were a few back and forth penalties to both squads, but the 2nd would eventually end tied at 1-1.
The Tomahawks came out hungry in the 3rd period, knowing they did not want to head back to Johnstown losing all three games for their weekend. Middletown native John Gelatt would break through for the Tomahawks, getting his seventh goal of the season to regain the lead ay 2-1. It only took New Jersey's LaRusso one minute to get his second goal of the game and tie the score back up at 2-2. Both sides would have a lot of good chances but could not find the back of the net to end the game in 60 minutes, forcing five minutes of sudden death overtime action.
The urgency we saw in the 3rd period carried into overtime as both teams were trying to get the win and end the game. Both goaltenders were on their game, making crucial saves. Because of this the game would advance to a shootout. Peyton Grainer was solid in net for the Tomahawks stopping all three shooters, while Andrew Murphy scored the lone goal to get the extra point and win for the Tomahawks.
Grainer made 30 saves in the win, while Berk Berkeliev made 40 saves in the loss.