Saturday Scores: Wings, Black Bears stay hot with sweeps
November 29, 2020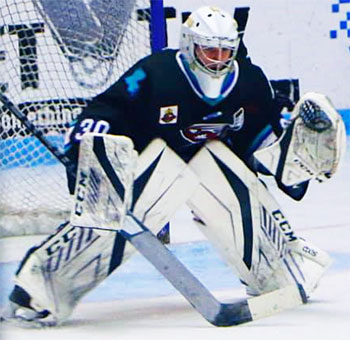 Austin 2 @ Aberdeen 3 - The Aberdeen Wings improved to 12-0 on the season as they swept the Austin Bruins 3-2 on Saturday night. Kevin MacKay opened the scoring for Aberdeen with his second goal of the season. Spencer Schneider added to the Aberdeen lead with a second period power play goal. Natan Vertes scored his eighth goal of the year to make it a 3-0 game. The Austin Bruins would make it interesting as Jens Richards scored twice in the final 10 minutes before ultimately falling short. Jake Sibell made 15 saves to improve to 9-0 while Hudson Hodges denied 44 shots for Austin.
Johnstown 3 @ Maryland 4 - The Maryland Black Bears finished off a sweep of the Johnstown Tomahawks with a 4-3 win on Saturday afternoon. The Black Bears overcame a 3-1 deficit as Conor Cole and Cam Gaudette scored in the second period for Maryland. Thomas Jarman scored the eventual game winning goal with five minutes remaining in regulation. Luke Mountain also scored for the Black Bears in the win. Matt McQuade, John Gelatt and Andrew Murphy scored for Johnstown. Michael Morelli picked up the win in goal as he made 30 saves. Connor Strobel stopped 26 shots in the loss.
Shreveport 4 @ Lone Star 1 - The Shreveport Mudbugs earned a series split as they took down the Lone Star Brahmas 4-1. Giovanni Procopio had a goal and an assist for Shreveport while Garrett Steele, Braiden Dorfman and Connor Gatto all scored in the win. Andrew DeCarlo scored the lone goal for Lone Star in the loss. Cole Hudson bounced back and made 15 saves and improved his record to 4-0-1 on the year. Graham Burke took the loss in goal as he made 29 saves.
Minot 4 @ Bismarck 3 - Carter Korpi scored the go ahead goal with 2:37 left in regulation to give the Minot Minotauros the 4-3 win over the Bismarck Bobcats. Korpi finished with two goals on the night while Cade Stibbe and Kyle Kukkonen also lit the lamp for Minot. Luke Gramer, Braden Costello and Will Magnuson found the back of the net for Bismarck. Keenan Rancier earned the win in between the pipes as he made 31 saves. Noah Altman turned aside 25 shots for Bismarck.
Amarillo 3 @ Odessa 4 - The Odessa Jackalopes put a stop to their losing streak as knocked off the Amarillo Bulls 4-3. DJ Hart led the offensive attack with two goals while Gabe Bennett had a goal and an assist. Lucas Coon also found the back of the net for the Jackalopes. Oliver Bezick, Tyler Sedlak and Jere Vaisanen tickled the twine for the Bulls. Noah Rupprecht won his first game of the season as he made 34 saves. Cal Sandquist and Max Gutjahr combined to make 18 saves for Amarillo.