Bulls, Bobcats, and Brahmas win pre-Thanksgiving contests
November 26, 2020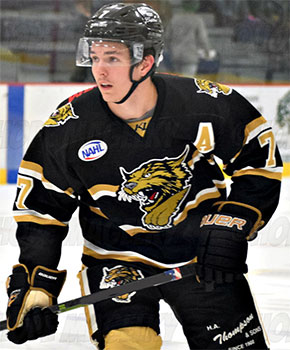 Odessa 0 @ Amarillo 3 – Bulls goalie Cal Sandquist stopped all 31 shots that came his way for his first shutout and second win of the season as Amarillo blanked the visiting Jackalopes on Wednesday, 3-0. The Bulls got the scoring out of the way early as all three goals in the game were scored in the 1st period. The first goal came 7:23 in from Jakub Teply, which was his first career NAHL goal and also the eventual game-winner. Late in the period, Ty Black added his second goal of the season to make it 2-0 and Nick Martino scored his first goal of the season to make it 3-0, which was more than enough for the Bulls. Odessa goalie Connor Hasley took the loss making 34 saves.
Minot 3 @ Bismarck 4 (OT) – Bismarck forward George Grannis had the overtime-winning goal and an assist to lead the Bobcats to a 4-3 win over the visiting Minotauros. Minot took a 2-1 lead through the opening 20 minutes as Jack Westlund scored both goals for the visitors, while Tim Piechowski had the goal for Bismarck. The Bobcats turned the tables in the 2nd period as goals from Quinn Rudrud and Will Magnuson have Bismarck a 3-2 lead after two periods. In the 3rd period, Minot's Damon Zimmer scored his 6th goal of the season to tie the game at 3-3. In the overtime, Grannis converted on a nice 2-on-1 for the game-winner. Noah Altman made 18 saves in the win, while Keenan Rancier made 38 saves in the loss.
Wichita Falls 1 @ Lone Star 4 – The Brahmas widened their lead atop the South Division to four points as they got 26 saves from Graham Burke in a 4-1 home win over Wichita Falls. Things were even after one period as Zach Purcell got the scoring started for Lone Star, which was answered by a goal from Drew Vieten of the Warriors. Luke Johnson scored in the 2nd period to give the Brahmas a lead they would not relinquish. In the 3rd period, Joey Baez scored his fourth goal of the season and Jack Collins scored to make it a 4-1 final. Warriors goalie Owen Bartoszkiewicz made 21 saves in the loss.