Saturday Scores: Wings, Tomahawks, Mudbugs all sweep
November 22, 2020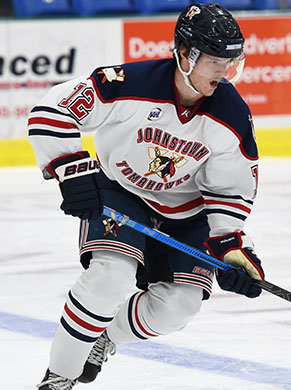 Aberdeen 5 @ Minot 2 - The Aberdeen Wings improved to 10-0 as they dominated the Minot Minotauros 5-2, sweeping the weekend series in Minot. Spencer Schneider and Payton Matsui each registered a goal and two assists in the victory for Aberdeen. Clayton Cosentino and Thomas Manty added a goal and an assist while Nico DeVita chipped in a goal as well. Dominik Wasik turned aside 27 shots to pick up the win in between the pipes. Mason Campbell led Minot with a goal and an assist while Christian Kadolph potted a goal as well. Keenan Rancier denied 47 shots for the Minotauros.
New Jersey 1 @ Johnstown 3 - The Johnstown Tomahawks finished off a sweep of the New Jersey Titans as they took down the New Jersey Titans 3-1. John Gelatt led the Tomahawks with three points, a goal and two assists. Anthony Mastromonica and Ryan Poorman each added a goal and an assist in the win. Sam Evola only needed to make 15 saves in order to earn his third game of the season. Tyler Nasca scored the only goal for New Jersey while Berk Berkeliev stopped 40 shots in a losing effort.
Shreveport 6 @ New Mexico 4 - The Shreveport Mudbugs offense continued to roll as they finished off a sweep of the New Mexico Ice Wolves. Jacob Onstott potted a pair of goals while Billy Feczko added a goal and two assists. Dawson Sciarrino also had a goal and two assists for the Mudbugs while Giovanni Procopio had a goal and an assist. Austin Brimmer also chipped in a goal for Shreveport. Cullen DeYoung kept the winning streak going as he made 26 saves. Cole Hanson tallied two goals for New Mexico while Spencer Rudrud had a goal and two assists. Michael McCosh also scored for the Ice Wolves. Henrik Laursen took the loss in net as he made 38 saves.
Lone Star 2 @ Wichita Falls 5 - The Wichita Falls Warriors won their first game against their north Texas rivals as they had a four goal outburst in the second period, propelling them to a 5-2 win. Drew vie ten, Adisen Brueck, Nick Lanigan and Alex Walker all scored in the second period to give the Warriors a two goal lead. Thomas Weis added an empty net goal late to seal the victory. Owen Bartoszkiewicz made 27 saves in the win. Zach Purcell and Joey Baez scored for the Brahmas in the loss while Graham Burke made 11 saves for Lone Star.
Austin 2 @ Janesville 5 - Cade Destefani led the Janesville Jets to a 5-2 win over the Austin Bruins as he had a goal and two assists. Jonah Aegerter, Dominik Bartecko, Matthew Romer and Paul Minnehan all found the back of the net for the Jets. Owen Millward stopped 27 shots to improve to 3-1 on the year. Peter Jacobs was responsible for both Austin Bruins goals and Zach Hansen turned aside 15 shots for Austin.