Black Bears snap skid with 4-1 win on Thursday
November 20, 2020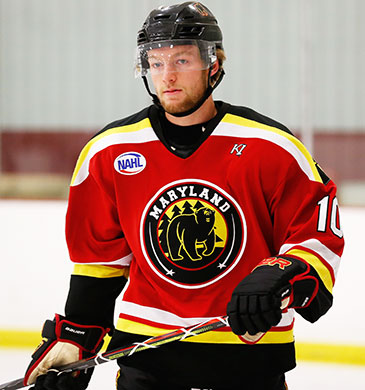 Northeast 1 @ Maryland 4 - The Maryland Black Bears entered its game Thursday against the Northeast Generals having lost their last four games. Thanks to two goals by newly named Captain Luke Mountain, the Black Bears were able to snap its losing streak with a 4-1 win. The win is Maryland's fourth of the season.
The game began scoreless until late into the second period when Maryland forward Luke Mountain was taken down during a shorthanded breakaway and was given a penalty shot. Mountain was able to capitalize, beating Northeast goalie Hugo Haas five hole to make it 1-0 Black Bears.
Mountain scored on another breakaway in the 3rd period to make it 2-0 Maryland. Mountain this time went forehand to backhand and slid it past Haas for a 2-0 lead. Then just :31 seconds after Mountain's second goal of the game, Black Bears forward Daniel Colabufo added to the lead to make it 3-0. Colabufo received a pass from teammate Garret Szydlowski and made a move to his backhand for the goal. The Generals were able to fight back into the game with a goal from forward Liam McCanney after the puck deflected off his back and in to make it 3-1. Maryland was able to hold off Northeast's comeback bid, capping the game off with a shorthanded empty net goal by forward Hunter McCoy for a 4-1 final.
Black Bears goalie Michael Morelli made 36 saves in the win for Maryland, while Haas made 32 saves in the loss.