NAHL, NAPHL requests support for Brian Page
November 18, 2020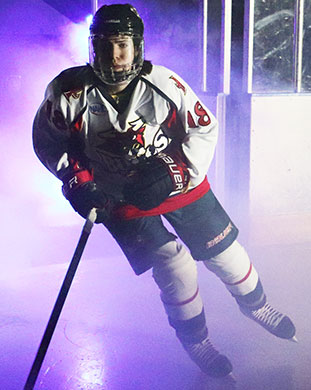 The North American Hockey League (NAHL) and North American Prospects Hockey League (NAPHL) are requesting support for one of their own, Brian Page.
Page, 17, who currently plays for the Philadelphia Little Flyers 18U team of the NAPHL, was injured in a game on November 15th. He took a hard open ice hit at the blue line at center ice and was taken to the hospital in an ambulance, then airlifted to Jefferson Hospital in Philadelphia for emergency surgery. The doctor's prognosis was that he had broken his c-5 and c-6 vertebrae, along with damaging his spinal cord. The doctors also believe that he might not have the ability to walk again.
He underwent emergency surgery at Thomas Jefferson University Hospital within six hours of being injured. He has another surgery set for Friday.
"He's a fighter. We have faith in God. We know with all the prayers, people praying for him that miracles are possible," his father Brian Page Sr. said. "He has breaks in his C5 and C6 of his spine as well as damage to his spinal cord."
Page, who is a native of Magnolia, Delaware, was getting prepared to play in the next NAPHL event, which takes place this upcoming weekend in Pittsburgh, PA.
A GoFundMe page was quickly established by one of Brian's teammates, Corey Owens, and as of Wednesday morning, has raised more than $161,000.
Please consider supporting Brian and his family by donating here.
Earlier this season, Page had made his NAHL debut, playing for the Amarillo Bulls in a game against the Lone Star Brahmas back on October 31st.
"I feel terrible for Brian and his family. He is a great hockey player and is in our plans for the future. I thought he played well and held his own in our game back on October 31st. He is a part of our Bulls family and we will be doing whatever we can to support him," said Bulls head coach Rocky Russo.