November 13, 2020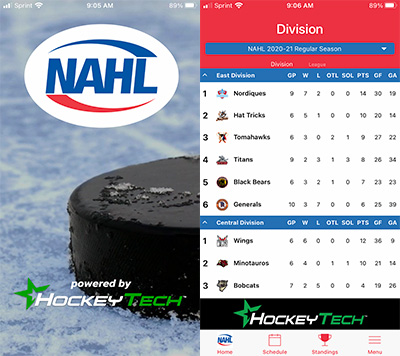 For the first time during the 2020-21 season, all four divisions in the NAHL are in action on the same weekend as 14 games highlight the schedule on Friday and Saturday.
This weekend features several exciting match-ups, including some cross-divisional play. This weekend also marks the 2020-21 regular season debuts for the Austin Bruins. Beyond the clubs who haven't played yet, only three NAHL clubs who have played a game remain undefeated heading into this weekend, which includes the Aberdeen Wings, Janesville Jets and Kenai River Brown Bears.
After a weekend off, the Central Division is back in action this weekend. The division-leading Aberdeen Wings put their 6-0 record on the line with a home series against Fairbanks from the Midwest Division. The Austin Bruins hit the ice for the first time in the 2020-21 regular season as they host the undefeated Janesville Jets from the Midwest Division for two games.
In the East Division, the Maryland Black Bears return to the ice for the first time since October 24th as they are on the road to face the New Jersey Titans in a two-game set. The Northeast Generals started the week off with a 3-2 win over the Maine Nordiques on Thursday.
In the Midwest Division, things got started on Thursday night with the Kenai River Brown Bears moving their record to 2-0 with a 5-3 win in Chippewa Falls against the Steel. The two clubs play twice more this weekend on Friday and Saturday. The Janesville Jets put their 2-0 record on the line with a series in Austin as the Bruins open their season.
It is a full slate of games in the South Division with all six teams in action. The Lone Star Brahmas have won three straight games and have a share of the division lead as they prepare to host the Amarillo Bulls for two games. The Odessa Jackalopes, who share the South Division lead with Lone Star at 3-1, prepare to host the Shreveport Mudbugs for a pair of games. The final series sees the Wichita Falls Warriors hosting the New Mexico Ice Wolves for two games.
Watch all the action on HockeyTV
Download the all new NAHL App today! (iOS - Google Play)
FRI, NOVEMBER 13
Maryland at New Jersey - 7:30 PM EST
Janesville at Austin - 7:05 PM CST
New Mexico at Wichita Falls - 7:05 PM CST
Kenai River at Chippewa - 7:10 PM CST
Fairbanks at Aberdeen - 7:15 PM CST
Shreveport at Odessa - 7:15 PM CST
Amarillo at Lone Star - 7:30 PM CST
SAT, NOVEMBER 14
Maryland at New Jersey - 7:00 PM EST
Janesville at Austin - 7:05 PM CST
New Mexico at Wichita Falls - 7:05 PM CST
Kenai River at Chippewa - 7:10 PM CST
Fairbanks at Aberdeen - 7:15 PM CST
Shreveport at Odessa - 7:15 PM CST
Amarillo at Lone Star - 7:30 PM CST