NAHL announces Bauer Hockey Stars of the Week
November 9, 2020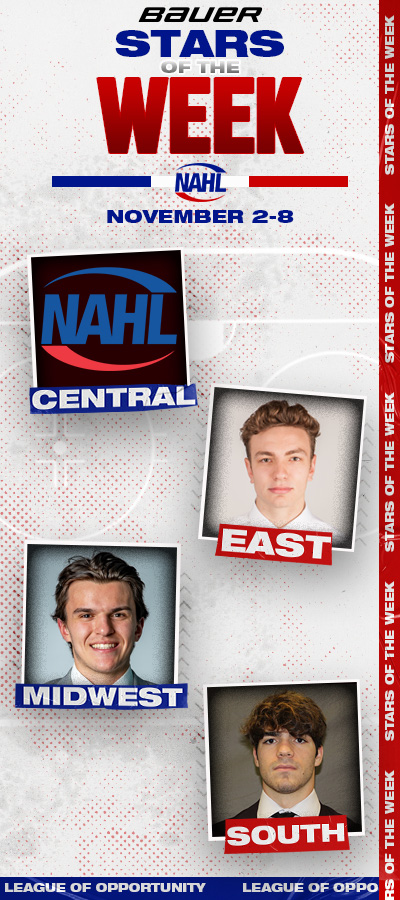 The North American Hockey League (NAHL) today announced the Divisional Stars of the Week presented by Bauer Hockey for the week ending November 8, 2020. The Divisional Stars of the Week is a weekly feature during the 2020-21 regular season that honors the top performing players in each of the four NAHL divisions. Only players that are nominated by their respective teams are considered for the Divisional Players of the Week award.
Watch: Stars of the Week highlights for November 2-8
Central Division Star of the Week: No Games
East Division Star of the Week: Aidan Curran, Forward, Northeast Generals
Northeast Generals forward Aidan Curran, 19, contributed in all three Generals games this past week. The 5'8/178 lbs. native of Dracut, MA, had five points in three games, which included a goal and four assists and a +5 rating. On Thursday, the University of New Hampshire recruit had two assists in a 4-2 loss at Danbury. On Friday, he had a goal and assist in a 5-4 shootout win in New Jersey against the Titans. On Saturday, he contributed another assist in a 5-2 loss. "Aidan has been a huge addition for us. We were short on players this weekend and I needed him and his linemates (Dylan Schuett and Liam McCanney) to step up, and all three did in a huge way. I wish we got more than two points, but I think once healthy, Aidan will help us turn this around and you will see a lot of wins as he creates offense with his feet, hands and head," said Generals head coach Bryan Erikson.
2nd Star: Tommy Bannister, F, New Jersey Titans
Honorable Mention (alphabetical): Jake Hewitt, F, Danbury Jr. Hat Tricks – Valentino Passarelli, F, Danbury Jr. Hat Tricks – Jack Ring, F, New Jersey Titans – Dylan Schuett, F, Northeast Generals
Midwest Division Star of the Week: Cade Destefani, Forward, Janesville Jets
Janesville Jets forward Cade Destefani, 19, exploded for seven points in the Jets' opening weekend home sweep of the Fairbanks Ice Dogs. The 6'2/185 lbs. native of Bedford, NH, had four goals and three assists to go along with a +4 rating in the two wins. On Thursday, Destefani had two goals in a 6-4 win. On Friday, he had two more goals, including the game-winner, and three assists in an 8-3 win. "Cade was an offensive factor all weekend for us. He played hard with and without the puck and got rewarded on the score sheet. He's a great kid who has come to the rink every day with the intention to learn and get better. If he continues to invest in his own development the ceiling is high for Cade as an NCAA Division 1 prospect. We are proud of Cade for being recognized and I am sure Cade would be quick to give his teammates a lot of the credit," said Jets head coach Parker Burgess.
2nd Star: Luke Pavicich, G, Kenai River Brown Bears
Honorable Mention (alphabetical): Tyler Herzberg, F, Fairbanks Ice Dogs – Mack Keryluk, F, Janesville Jets – Brendan Miles, D, Fairbanks Ice Dogs – Adam Szubert, D, Kenai River Brown Bears
South Division Star of the Week: Adisen Brueck, Forward, Wichita Falls Warriors
Wichita Falls Warriors forward Adisen Brueck, 19, helped his team pick up three of four points in a weekend home series against the Shreveport Mudbugs. The 5'11/190 lbs. native of Chesterfield, MO, had a goal and three assists and was a +4 in the two games. On Friday, he had an assist in a 4-3 shootout loss. On Saturday, he had a goal and two assists in a 6-4 win. "Adisen has been really good for our group early on this season. He has shown us as a staff he is willing to do anything he can to help the team win. He is a selfless player that had to bounce back and forth from wing to center the past few games and consistently has brought energy and accountability to our lineup. At less than 100% he was a huge reason why we were able to get 3 of 4 points on the weekend. His production from the weekend is no surprise, he is constantly around the puck and generating quality chances for himself and his line mates," said Warriors head coach Garrett Roth.
2nd Star: Austin Brimmer, F, Shreveport Mudbugs
Honorable Mention (alphabetical): Chris Carroll, F, Amarillo Bulls – Connor Hasley, G, Odessa Jackalopes - Nick Lanigan, F, Wichita Falls Warriors – Lukas Sedlacek, F, Shreveport Mudbugs - Nick Stapleton, F, Amarillo Bulls