Saturday Scores: Warriors post first NAHL win
November 8, 2020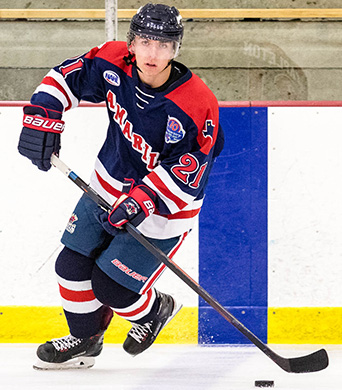 Shreveport 4 @ Wichita Falls 6 – Behind two goals and an assist from Nick Lanigan the Wichita Falls Warriors made teams history on Saturday with their first NAHL franchise win. The Wildcats opened up a 2-1 lead in the 1st period goals from Jackson Salt and Adisen Brueck, while Lukas Sedlacek scored for the Mudbugs. The Warriors made it 3-1 with a goal early in the 2nd period from Thomas Weis. The Mudbugs fought back with a goal from Austin Brimmer and another from Sedlacek to tie the game at 3-3. Later in the 2nd period, the Warriors put the game out of reach with three goals in a span of 2:16 with two goals from Lanigan and another from Mac Wiseman. Mason McCormick had the other Shreveport goal. Owen Bartoszkiewicz made 31 saves in the win, while Luca Di Pasquo took the loss with 8 saves.
Amarillo 6 @ Odessa 2 – Nick Stapleton and Chris Carroll each scored twice to give the Amarillo Bulls their first win of the 2020-21 season with a 6-2 win in Odessa, handing the Jackalopes their first loss. The Bulls opened up a 2-0 lead with 1st period goals from Max Scott and Carroll. Fletcher Anderson scored for the Jackalopes before the period was up to make it 2-1. In the 2nd period, the Bulls increased their lead to 4-1 with goals from Stapleton and Ty Black. In the 3rd period, both Stapleton and Carroll added their second goals of the game, while Liam O'Hare had the other goal for the Jacks. Cal Sandquist made 14 saves in the win, while Noah Rupprecht was handed the loss with seven saves.
Northeast 2 @ New Jersey 5 – Titans forward Tommy Bannister had two goals and an assist to lead New Jersey to a 5-2 win on Saturday, as they took three of four points in their weekend series with the Generals. The Generals got on the board early in the 1st period on a goal from Dylan Schuett. The Titans responded with two goals from Stephen Willey and Evan Werner to make it 2-1 at the end of one period. Liam McCanney tied the game at 2-2 with the only goal of the 2nd period. In the 3rd period Bannister scored twice and Anthony Mollica added another goal to secure the 5-2 win. Titans goalie Louden Hogg made 19 saves in the win, while Hugo Haas made 41 saves in the loss.