NAHL announces monthly player awards for October
November 4, 2020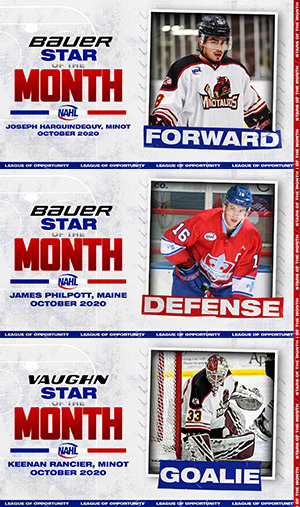 The North American Hockey League (NAHL) has announced its monthly player awards for the month of October. The Bauer Hockey NAHL Forward of the Month is Joseph Harguindeguy. The Bauer Hockey NAHL Defenseman of the Month is James Philpott from the Maine Nordiques. The Vaughn NAHL Goaltender of the Month is Keenan Rancier from the Minot Minotauros. Only players who are nominated by their respective teams are considered for the NAHL monthly awards.
Watch: Stars of the Month highlights for October
Bauer Hockey NAHL Forward of the Month: Joseph Harguindeguy, Minot Minotauros
Minot Minotauros veteran forward Joseph Harguindeguy, 19, had a solid and consistent month of October. The 5'8/173 lbs. native of La Habra, California, helped his team to a 4-0-2 record during the month with nine points (5 goals, 4 assists) in six games played. That included recording at least a point in all six games, two multi-point games and one game-winning goal. This is Harguindeguy's third season in the NAHL. In 95 career regular season games, he has recorded 41 career points. "I couldn't be any happier for Joseph. The kid has put in his time and is being rewarded on the score sheet. Coming to the season we lost a lot of scoring up front and he took the opportunity and ran with it. He plays in every situation and I'm sure some school will land one hell of player," said Minot head coach Shane Wagner.
"I felt like after the first weekend, I felt pretty good about myself and my game. I think everyone came together really well and we felt like we had a very good team with good chemistry to start the season," said Harguindeguy. "I think this year I want to lead by example and be the guy that my teammates can look to for production and leadership. I think the ultimate goal remains to win a Robertson Cup."
Runner-Up: Isaiah Fox, Maine Nordiques
Honorable Mention (alphabetical): Mitch Allard, Minnesota Wilderness – Clayton Cosentino, F, Aberdeen Wings – John Gelatt, Johnstown Tomahawks – Cody Hoban, Danbury Jr. Hat Tricks – Liam McCanney, Northeast Generals – Nicholas Niemo, Lone Star Brahmas – Spencer Rudrud, New Mexico Ice Wolves
Bauer Hockey NAHL Defenseman of the Month: James Philpott, Maine Nordiques
Maine Nordiques defenseman James Philpott, 20, shined in October as he valted himself to the top of the NAHL in scoring for defensemen. The 6'2/190 lbs. native of Calgary, Alberta, recorded eight points in nine games during the month as the Nordiques put together a 7-2-0 record, which is current good for 1st place in the East Division. That included two goals, six assists and recording at least a point in seven of the nine games. "James is young man we couldn't be happier is a Nordique. As a 1st round draft pick we had high aspirations for him headed into the season and he has done more than deliver, both as a player and person. We believe he is a defenseman who transcends what is expected of his position at the junior level. His contributions on the offensive side of the ice as well as defensively, his ability to shut down a rush or jump into dangerous attacking position, and ultimately his hockey IQ, leadership and compete level make him a very attractive prospect not only for NCAA Division 1 college hockey, but also at professional level as well. The Maine Nordiques are thrilled with his selection as defensemen of the month and look forward to him selecting his Division 1 school in the coming weeks as well," said Maine head coach Nolan Howe.
"We had a really good couple of weeks of practice leading up to the start of the season and I think that played a big part in our good start as a team. I got adjusted right away to the league and new team and the style of play our coaches have created fits my game well," said Philpott. "I would love to keep working hard and improving to earn a NCAA Division 1 scholarship and help our team to the top spot in the East Division and try and win a Championship."
Runner-Up: Nico DeVita, Aberdeen Wings
Honorable Mention (alphabetical): Caden Lewandowski, Johnstown Tomahawks – Bobby Metz, Northeast Generals – Malcolm Palmer, Lone Star Brahmas – Dane Stoyanoff, Minnesota Wilderness
Vaughn NAHL Goaltender of the Month: Keenan Rancier, Minot Minotauros
Minot Minotauros goalie Keenan Rancier, 20, had an impressive NAHL debut during the month of October. The 6'2/180 lbs. native of Victoria, British Columbia, posted a 4-0-1 in five games during the month, which included a 1.57 goals against average and a .960 save percentage as he stopped 192 of a possible 200 shots during the month. That included Star of the Week honors in the Central Division on October 12th, which included his first NAHL shutout. "Keenan has been a consummate professional since his arrival in Minot. From day one, he has come to the rink prepared and ready to get better every single day. He is incredibly technical in his approach, he competes as hard as any goaltender I have worked with in my time, and above all else - he is a fantastic teammate, that pushes those around him- every time he is on the ice. He sets the standard day in and day out for our hockey club. Above all else, he is a great young man, and we are fortunate to have someone with Keenan's character here within our organization," said Minotauros assistant coach Wyatt Waselenchuk.
"I think after we worked some things out after the exhibition games, we really got off to a good start and part of that was making sure I was doing everything I could to stop the puck and help the team win. I think it took us a few weeks to click, but once we did, we did a good job of continuing that momentum during the month," said Rancier. "My goal is to play NCAA Division 1 hockey next year. I know the NAHL is the League of Opportunity and that's why I am here. I think I also want to help our team bring a Robertson Cup to Minot for our fans."
Runner-Up: Jake Sibell, Aberdeen Wings
Honorable Mention (alphabetical): Graham Burke, Lone Star Brahmas – Sam Evola, Johnstown Tomahawks – Hugo Haas, Northeast Generals – Atticus Kelly, Minnesota Wilderness – Edvard Nordlund, Danbury Jr. Hat Tricks – Tyriq Outen, Maine Nordiques – Owen Parker, New Mexico Ice Wolves