October 23, 2020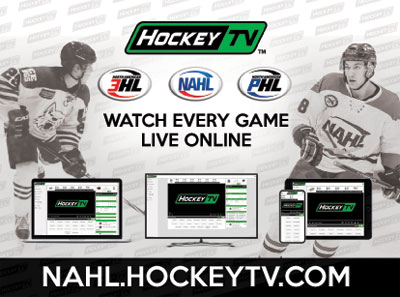 There are 14 games on the schedule this weekend in the NAHL as the South Division makes their 2020-21 debut.
The action also continues in the Central and East Divisions. The Midwest Division begins their regular season on November 5th.
Celebrating its 46th season in 2020-21, the NAHL is the oldest and largest junior hockey league of its kind in the United States and one of only two USA Hockey-certified leagues that operate under the non pay-to-play model.
During the 2019-20 season, the NAHL set yet another all-time single-season record of 361 NCAA commitments during one season, including a record number of 249 NCAA Division 1 commitments, further reinforcing that when it comes to players entering the league without a commitment, but earning one while they are playing in the league, there is no one better at it than the NAHL.
In the Central Division this weekend, the Bismarck Bobcats will try and slow down the division-leading Aberdeen Wings in a home-and-home series. The Wings are off to a 4-0 start and have outscored their opponents 23-5, which included wins of 6-4 and 3-0 over the Bobcats last weekend. In the other Central Division series, the St. Cloud Norsemen look to get their first win of the season as they visit Minot for a pair of games.
In the East Division, the weekend games started with a Thursday tilt between Johnstown and Northeast as the Generals came away with their first win of the 2020-21 season. The two teams finish their weekend series on Friday afternoon. The 1st place Maryland Black Bears face a key home series against the Danbury Jr. Hat Tricks. The final series has the Maine Nordiques hosting the New Jersey Titans.
In the first weekend of South Division action, the Wichita Falls Warriors make their NAHL debut as they host the Odessa Jackalopes for a pair of games on Saturday and Sunday. Garrett Roth makes his NAHL head coach debut for the Warriors, while Jason Fortier will do the same for Odessa. In the other series, the Lone Star Brahmas will host the New Mexico Ice Wolves for a pair of games in North Richland Hills.
Watch all the action on HockeyTV
Download the NAHL App (iOS - Google Play)
FRI, OCTOBER 23
Johnstown at Northeast - 12:00 PM EDT
New Jersey at Maine - 7:00 PM EDT
Danbury at Maryland - 7:45 PM EDT
Bismarck at Aberdeen - 7:15 PM CDT
New Mexico at Lone Star - 7:30 PM CDT
St. Cloud at Minot - 7:35 PM CDT
SAT, OCTOBER 24
Danbury at Maryland - 6:30 PM EDT
New Jersey at Maine - 7:00 PM EDT
Odessa at Wichita Falls - 7:05 PM CDT
Aberdeen at Bismarck - 7:15 PM CDT
New Mexico at Lone Star - 7:30 PM CDT
St. Cloud at Minot - 7:35 PM CDT
SUN, OCTOBER 25
New Jersey at Maine - 1:00 PM EDT
Odessa at Wichita Falls - 3:05 PM CDT