NAHL grad Kielly signs contract with Vancouver Canucks
October 22, 2020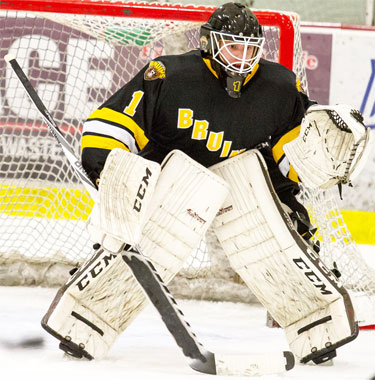 The NHL's Vancouver Canucks have announced they have re-signed NAHL grad Jake Kielly to a one-year, two-way contract.
The two-way deal means Kielly would make different salaries if he played in the NHL or AHL levels. Capfriendly.com, a website which compiles NHL contract information, said the deal would pay him $700,000 at the NHL level. The move was expected after the Kielly was one of seven players to be given a qualifying offer by the Canucks by the recent deadline.
Kielly was briefly called up at the end of the Canucks' Stanley Cup playoff run in Edmonton this summer after Jacob Markstrom suffered a leg injury. Kielly was still quarantining at the team hotel when the Canucks lost in Game 7 to the Vegas Golden Knights in the Western Conference semi-finals.
Originally signed to a two-year deal at the end of the 2018-19 season, the former Clarkson University goalie spent most of the 2019-20 season with the Kalamazoo Wings of the ECHL. He went 7-11-4 with the K-Wings, posting a 0.887 save percentage. He also appeared in two games for the Utica Comets at the tail end of the season, winning his lone start.
The 24-year-old Kielly, who made his pro debut last season, is one of four goaltenders currently under contract with the Canucks. Vancouver appears set with the tandem of Thatcher Demko and newly signed Braden Holtby. Unless the Canucks sign another goaltender before the 2020-21 seasons starts, Kielly seems likely to back up Mike DiPietro with the Utica Comets in AHL action, assuming there's a season for the Canucks' top minor league affiliate.
Kielly played in the NAHL for the Austin Bruins during the 2014-15 season, where he was named to the Central Division All-Rookie Team that season, helping the Bruins get all the way to the Robertson Cup Championship Game.
After playing in the NAHL, the 6-2, 201-pound native of Eden Prairie, Minn., played for Clarkson University in the NCAA, finishing as third all-time winningest goaltender with a career record of 64-37-13, including 16 shutouts since the start of the 2016-17 campaign. A Top 5 Finalist for the Mike Richter Award in 2019, Kielly ranked among the best in the NCAA during his final season, posting a .929 save percentage and a 1.91 goals against average en route to a 26-11-2 record, including five shutouts. Kielly was named a Second-Team ECAC Hockey All-Star and to the conference's All-Tournament team.