Hockeyville win shows growing interest among Hispanics in El Paso
October 14, 2020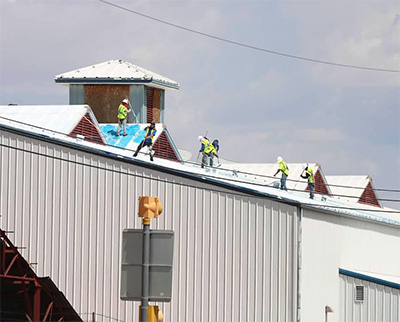 By William Douglas, NHL.com Staff Writer
Editor's note: The NHL is celebrating Hispanic Heritage Month, which runs through Oct. 15, by highlighting the history and growing impact of Hispanics at all levels of the game. Today, we look at the El Paso, Texas, the winner of this year's Kraft Hockeyville USA.
Cory Herman looked up to the ceiling of the El Paso County Coliseum Event Center recently and marveled at what he saw.
Absolutely nothing.
"It was dark," said Herman, coach of the El Paso Rhinos NA3HL, and soon to be NAHL, junior hockey teams that calls the Event Center home. "Before, when the lights were off, you could see sunlight and stuff through the holes in the roof."
That was before El Paso, Texas, surprised the hockey world and won the Kraft Hockeyville USA 2020 competition in August and the $150,000 in rink upgrades and $10,000 in equipment from the NHL Players' Association's Goals & Dreams fund that comes with the title.
Herman and the Rhinos started putting the winnings to use almost immediately, hiring contractors to repair the sun-beaten roof of the Event Center, which opened in 1942 primarily for rodeo and livestock shows. Old hot lighting fixtures, which contributed to the ice surface sweating, are being replaced with energy-efficient LED lights and the rink's restrooms are being gutted and rebuilt.
El Paso, a border city of nearly 700,000 that's almost 85 percent Hispanic, turned a lot of heads by winning Kraft Hockeyville USA 2020 and beating out cold-weather finalists East Grand Forks, Minnesota, Wichita, Kansas, and River Falls, Wisconsin, in a nationwide vote.
The win is a testament to the growing interest in hockey within Hispanic communities and the reach of the sport in so-called non-traditional regions. More than 90 percent of fans at Rhinos game and 95 percent of the team's youth hockey program are Hispanic, Rhinos general manager Corey Heon said.
"Kraft Hockeyville has always been about bringing America's hockey communities together, so we were excited to see El Paso, a town not always associated with hockey, represent the passion of the sport on behalf of the community and the southern region," said Magen Hanrahan, vice president of media and marketing services for Kraft Heinz. "Kraft Heinz and the Kraft Hockeyville team were most impressed by the stories from the community of the El Paso County Coliseum (Events Center) as a place for celebration and unity for El Paso residents. The community's passion for hockey and their rink trickled into their rallying efforts from January through the winner. announcement, a true testament to the town's dedication."
El Paso resident Blanca Ortega said winning Kraft Hockeyville has helped put her city on the hockey map.
"Everybody's like, 'El Paso, hockey? You guys live at the border, who plays hockey?'" said Ortega, a school nurse whose two daughters play in the Rhino's travel and girls hockey programs. "Yes, hockey exists here, and the community is getting a little better at it and we're getting more into it. Yes, there is hockey in El Paso and there are a bunch of Mexicans, and we play pretty good too."
The Kraft Hockeyville win means that El Paso youth players will be able to enjoy longer seasons with less travel because the Event Center ice can be put down earlier and remain longer after the roof repair, Ortega said.
"Right now, we're traveling to Odessa every weekend, which is four hours away, just to get some ice time," she said. "We have to drive to Odessa or Albuquerque, New Mexico, which is also four hours away, because those are the closest ice rinks where our kids are able to practice. Now we won't have those extra travel expenses because we'll be at home because our rink will be OK."
Click here to read the rest of the story