Tomahawks erase 6-1 deficit to win season opener
October 12, 2020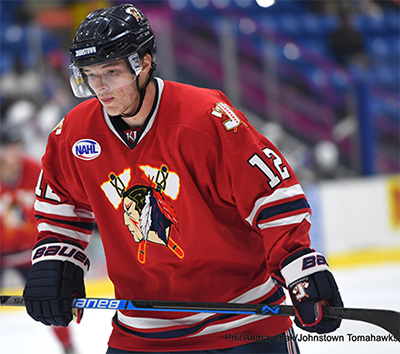 Johnstown 7 @ Maryland 6 (OT) – The Johnstown Tomahawks responded with six unanswered goals to come back and win their NAHL regular season opener against the Maryland Black Bears on the road by a score of 7-6 Sunday night.
The Tomahawks wasted no time getting on the board with a goal from rookie forward Jay Ahearn less than two minutes into the game. The rest of the period was all Black Bears as they added on four goals before the end of the period, with the first two from Daniel Colabufo and Reid Leibold coming on the power play. Aidan McDowell would score later in the period to make it 3-1 and Leibold added his second of the game with just :25 seconds remaining to make it 4-1 after one period.
Sam Evola started the 2nd period in between the pipes for the Tomahawks to replace starter Ryan Ullan, who allowed four goals on 11 shots on goal. The change did not give the Tomahawks the boost they were looking for as the Black Bears added on two more short-handed goals in the first 90 seconds of the period, including another one from Leibold to complete a hat-trick and another from Garrett Szydlowski to make it 6-1. Maryland defenseman Aidan McDowell took a penalty at the 6:51 mark and Tomahawks' Anthony Mastromonica converted on the opportunity to break the ice for the Hawks making it 6-2.
Clark and Reed Stark tallied on two more goals later in the period to send the Hawks into the intermission down by only two goals.
Black Bears' Andrew Remer took a slashing penalty to begin the 3rd period and Mastromonica converted on the power play yet again. A few minutes later Hawks forward Mikol Sartor got another puck behind the net which miraculously tied the game up at 6.
Both teams went back and forth for the remainder of the period but 60 minutes was not enough time to end this game.
After a very fast-paced 3-on-3 overtime, rookie forward John Gelatt netted the overtime game winning goal on a breakaway shot with only 49 seconds remaining in the overtime period.
The two teams will be back at it again right away with the second game of the series beginning at 11:30 AM on Monday morning in Maryland.