Saturday Scores: Wings, Nordiques open with season sweeps
October 11, 2020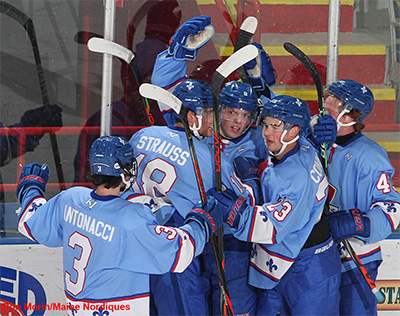 St. Cloud 0 @ Aberdeen 10 - It was all Aberdeen from the opening puck drop as the Wings took care of the Norsemen 10-0. Liam Fraser and Thomas Manty put the Wings up 2-0 less than 30 seconds into the game. Peyton Matsui contributed two goals and two assists to lead Aberdeen. Fraser ended the night with a pair of goals of his own. Nico DeVita, Christian Abrams, Natan Vertes, Jakob Stender and Michael Reed all scored in the Wings win. Dominik Wasik stopped all 12 shots thrown his way to earn the shutout. Will Pinney and Paxton Geisel combined for 40 stops.
Northeast 2 @ Maine 3 - Three first period goals were all the Maine Nordiques needed as they completed the sweep of the Northeast Generals with a 3-2 win on Saturday night. Tyler Gaulin got the scoring started at the 8:24 mark with Reese Farrell adding one on the power play just a few minutes later. Jack Strauss netted his second of the year just before the end of the first period. Jonathan Young and Eric Fawkes scored for the Generals in the second period but it wouldn't be enough as Avery Sturtz held on to win his first game of the season. Hugo Haas took the loss for the Generals.
Bismarck 3 @ Minot 2 (SO) - George Grannis scored the game deciding goal in the shootout to give the Bismarck Bobcats the 3-2 win over the Minot Minotauros. Carter Korpi got the scoring started for Minot in the first period. Kaiden Scott would chip in an insurance goal just before the seven minute mark of the middle frame. Austin Schwartz converted a shorthanded chance for the Bobcats to bring them within one before Ben Troumbley tied the game just before the end of the period. Tommy Aitken made 31 saves for the Bobcats to earn the victory while Keenan Rancier turned aside 44 saves for Minot.
New Jersey 4 @ Danbury 3 - Alex D'Angelo scored twice as the New Jersey Titans earned a weekend split with the Danbury Jr. Hat Tricks with a 4-3 win on Saturday. Anthony Calafiore and Tyler Nasca also found the back of the net for the Titans. Louden Hogg grabbed the victory in goal as he made 30 saves. Alex Krause scored a goal and an assist for the Jr. Hat Tricks while Mark D'Agostino and Spencer Evans also tallied goals for Danbury. Josh Seeley made 30 stops in the loss.