Friday Finals: Maine, Danbury, Aberdeen, Minot win on Opening Night
October 10, 2020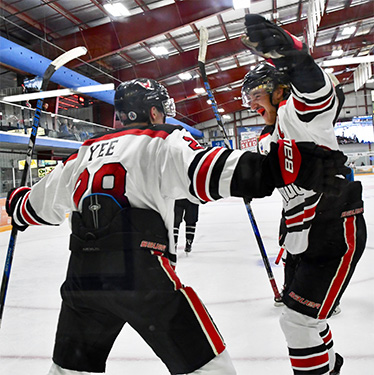 Northeast 2 @ Maine 6 - A strong final 40 minutes propelled the Maine Nordiques to a 6-2 win in their season opener over the Northeast Generals. Liam McCanney opened the scoring for the Generals but it was all Nordiques in the second period as Connor Wood, Isaiah Fox and Jack Strauss all lit the lamp for Maine. Resse Farrell, Tyler Gaulin and Caden Pattison all scored in the third period for Maine. Andy Stoneman chipped in a goal for Northeast in the loss. Tyro Outen picked up the win in goal for Maine by making 30 saves. Joey Stanizzi took the loss for Northeast as he made 41 stops.
St. Cloud 1 @ Aberdeen 4 - The Aberdeen Wings came out flying in their home opener as they outshot the St. Cloud Norsemen 45-17 in the opening contest. Thomas Manty netted his first goal of the year to give the Wings an early 1-0 lead. Jack Suchy tied the game early in the second frame but Nathan Mann scored less that a minute later to give the Wings the lead for good. Jackson Yee and Liam Fraser chipped in goals for Aberdeen while Jake Sibell stopped 16 of 17 St. Cloud shots. Paxton Geisel took the loss in net as he denied 41 of 45 Aberdeen shots.
New Jersey 2 @ Danbury 3 (OT) - Cody Hoban scored the game winning goal in overtime to secure the Danbury Jr. Hat Tricks first win in the North American Hockey League. Hunter McCurdy scored the first goal in team history at the 18:10 mark of the first period only to see New Jersey's Jake LaRusso tie the game just 69 seconds later. The Titans would take the lead again late in the second period on Joe Schubert's first of the year. Alex Krause would tie the game in the early seconds of the third and that would be all the scoring until Hoban's game winner.
Bismarck 0 @ Minot 1 - Keenan Rancier stopped all 46 shots thrown in his direction as the Minot Minotauros shutout the Bismarck Bobcats 1-0. Damon Zimmer scored the game's only goal with Joseph Harguindeguy and Jack Westlund picked up the assists. Noah Altman was spectacular in his own right as he made 34 saves on 35 Minot attempts.