NAHL Weekend Preview: We're Back!
October 9, 2020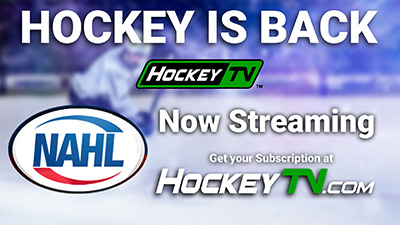 It has been 208 days since the last NAHL regular season game back on March 11th, but that all ends tonight as the NAHL is pleased to return to play with the opening games of the 2020-21 regular season.
The weekend features 10 games in the Central and East Divisions from Friday through Monday. The South and the Midwest Divisions begin at a later date.
Celebrating its 46th season in 2020-21, the NAHL is the oldest and largest junior hockey league of its kind in the United States and one of only two USA Hockey-certified leagues that operate under the non pay-to-play model.
During the 2019-20 season, the NAHL set yet another all-time single-season record of 361 NCAA commitments during one season, including a record number of 249 NCAA Division 1 commitments, further reinforcing that when it comes to players entering the league without a commitment, but earning one while they are playing in the league, there is no one better at it than the NAHL.
The two Central Division matchups this weekend are both intriguing. The last regular season game played in the NAHL was back on Wednesday, March 11th and featured the Bismarck Bobcats at the Minot Minotauros. Ironically, that will again be the match-up in the return to play on Friday as the state rivals again face one another in a weekend series in Minot. New Minotauros head coach Shane Wagner will make his debut behind the bench. Another coaching debut takes place in the other series as the St. Cloud Norsemen are on the road to face the Aberdeen Wings. New Norsemen head coach Corey Millen makes his debut against the active NAHL wins leader in Scott Langer, who is closing in on 600 career wins.
In the East Division, the Danbury Jr. Hat Tricks make their NAHL debut with new head coach Billy McCreary behind the bench as they host the New Jersey Titans, who were atop the East Division when the season was canceled back in March. The Maine Nordiques will host the Northeast Generals in the other series on Friday and Saturday. On Sunday and Monday, the Johnstown Tomahawks take to the road to face the Maryland Black Bears. Both teams were in a playoff spot when the season ended last year.
Watch all the action on HockeyTV
Download the NAHL App (iOS - Google Play)
FRI, OCTOBER 9
Northeast at Maine - 7:00 PM EDT
New Jersey at Danbury - 7:05 PM EDT
St. Cloud at Aberdeen - 7:15 PM CDT
Bismarck at Minot - 7:35 PM CDT
SAT, OCTOBER 10
New Jersey at Danbury - 7:00 PM EDT
Northeast at Maine - 7:00 PM EDT
St. Cloud at Aberdeen - 7:15 PM CDT
Bismarck at Minot - 7:35 PM CDT
SUN, OCTOBER 11
Johnstown at Maryland - 7:00 PM EDT
MON, OCTOBER 12
Johnstown at Maryland - 11:30 AM EDT