NA Now: Shreveport Mudbugs
October 5, 2020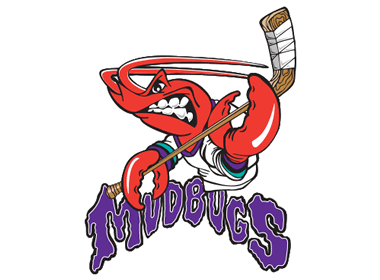 The NA Now series features a look at all teams in the NAHL for the 2020-21 season, with a new team being highlighted daily, leading all the way up until the start of the regular season. NA Now looks into each NAHL team and will include video segments with all the head coaches in the NAHL, as they provide fans with their expectations and outlook for the season, including taking a look at their strengths as a team and thoughts on the league. It will also take a look back on last season and how each team fared and what they accomplished.
Shreveport Mudbugs
Head Coach: Jason Campbell (3rd Year)
2019-20 record: 52 GP, 34-18-0, 68 pts. (4th in the South Division)
2019-20 leading scorer: Sam Miller (40 Points)
2020-21 Division: South
First regular season game: Friday, November 6th @ Wichita Falls Warriors
Home opener: Friday, December 4th vs. Amarillo Bulls
The Shreveport Mudbugs again found themselves in the playoff conversation last year, having qualified for the NAHL's Robertson Cup Playoffs prior to seasons end. All indications were that thanks again in large part to stout team defense, the Mudbugs would have been a tough out in the South Division Playoffs.
The Mudbugs allowed just 2.06 goals against per game, which ranked 3rd in the NAHL right behind divisional opponents Lone Star and Amarillo. That was thanks in large part to two goalies who ended up with NCAA commitments, along with the NAHL's Defenseman of the Year, Sam Miller.
"I think the playoffs would have been a real good battle. We felt bad for the guys aging out, but all of this was out of our control and I think we handled it well given the circumstances," said Mudbugs head coach Jason Campbell, who will be entering his third season in 2020-21.
The Mudbugs had their fair share of NCAA commitments in 2019-20, helping the NAHL to another single-season NCAA commitment record. In total, the Mudbugs had 12 players with NCAA commitments, which is something that Campbell and the organization as a whole, takes a lot of pride in.
"I love seeing the players that we coach move onto the NCAA. It's not just the hockey, but also knowing they are going to great a great education and grow as men. The future is so bright for all those guys and their whole lives are ahead of them, so we take great pride in it. They are a part of our family, so it connects with you personally," said Campbell.
Watch: Shreveport Mudbugs season preview
As for what is ahead in 2020-21, the Mudbugs are sticking to what has worked in the past and building their team from the net on out. "We lost both our goalies to the NCAA, so that was our biggest void. I think the guys we have seen so far, we are pretty happy with, but there is a lot of work to do to make an impact at this level, so we will see. I think we felt like our defensive corps was in decent shape, but we also needed to replace some pieces up front," said Campbell.
The Mudbugs return some key pieces on the backend, specifically team captain and veteran David Breazeale, who enters his third season playing for the Mudbugs. Breazeale put up 17 points in 46 regular season games played. "David is a quiet, confident leader on and off the ice that will play a big role for us in his second year as captain and get across what we are trying to build here," said Campbell.
Other returning defensemen that Campbell pointed out who should be able to make an impact include Aidan Metcalfe and Gio Procopio. Metcalfe was named to the All-South Division Rookie Team thanks to 23 points in 43 games played during his rookie season. Procopio had 20 points in 35 games played.
Up front is where the Mudbugs will have to do some building and replacing many of the veterans that aged out and moved onto the NCAA. Forward Matt Weber is one of few returners for Campbell's crew. "We want to win as many hockey games as we can, but also want to do it the right way. We want to play a quality brand of team hockey where everyone is involved and knows their role at both ends of the ice. We also want our players to get better off the ice with a good work ethic in the gym and good habits. We want them to be a big part of the community and realize there are causes out there that are bigger than oneself. If we can do that as a unit, I think we will be successful in the long run," said Campbell.
"You just want to keep everybody healthy and moving forward in the right direction. We are doing our best. We didn't get to do a main camp, so there are a lot of pieces of the puzzle that we are still trying to put in place before the season starts. Overall, the enthusiasm has been great. Our guys are super excited to be back and playing hockey," continued Campbell.
Next Up: St. Cloud Norsemen