NA Now: Northeast Generals
October 3, 2020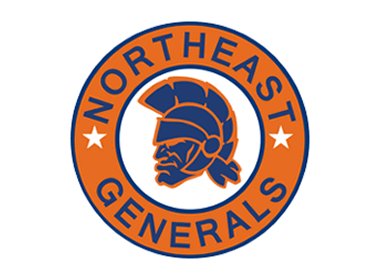 The NA Now series features a look at all teams in the NAHL for the 2020-21 season, with a new team being highlighted daily, leading all the way up until the start of the regular season. NA Now looks into each NAHL team and will include video segments with all the head coaches in the NAHL, as they provide fans with their expectations and outlook for the season, including taking a look at their strengths as a team and thoughts on the league. It will also take a look back on last season and how each team fared and what they accomplished.
Northeast Generals
Head Coach: Bryan Erikson (5th Year)
2019-20 record: 50 GP, 20-27-3, 43 pts. (6th in the East Division)
2019-20 leading scorer: Michael Heneghan (37 Points)
2020-21 Division: East
First regular season game: Friday, October 9th @ Maine Nordiques
Home opener: Friday, October 16th vs. Danbury Jr. Hat Tricks
The Northeast Generals are coming off a season last year, which saw them rotate in and out of the East Division playoff race the majority of the season. When the season was canceled, the Generals were four points out of the fourth and final playoff spot in the East.
Like most of their Eastern counterparts, the Generals had a great year of the NCAA commitments, as 14 players finished the season with a commitment, which included eight Division 1 commitments. "The best part about coaching in the NAHL is getting our players committed to play in the NCAA. I think winning goes hand in hand with that, but we are seeing more and more players commit each year, which is a great sign," said Generals Head Coach and GM Bryan Erikson. "The scouts know that the best hockey in the East is in the NAHL and it's not even close, and we have benefitted from that. What is more exciting for me is the impact they are having once they get to the NCAA. We enjoy watching their progress and we are at the point now, where they have carved out a great NCAA careers and are moving onto play professional hockey."
The Generals were middle of the pack offensively in 2019-20, but defensively the team ranked 23rd, allowing 3.82 goals per game. Team defense is where Erikson looked to start building for the 2020-21 season. "We were looking to strengthen our defense, which starts with our goalie tandem. I also think losing a guy like Michael Heneghan (Alabama-Huntsville), who led our team in scoring last season, along with one of our goalies at semester, forced us to address our team defense first."
The goalie tandem this season will include Czech Republic native Hugo Hass, who will be playing his first season of junior hockey in the United States after playing last season in Sweden's top junior league. He will join Joey Stanizzi, who was a workhorse last season, appearing in 37 games.
Watch: Northeast Generals season preview
"We have 14 players returning from a pretty good team last year and I think we have been diligently working towards a year like this season, which will be our fifth as an organization. It will be important that we return our four captains as well. That gives us instant leadership to start the season," said Erikson. "We are a little bit in limbo in Massachusetts with playing games, so we will see how that shakes out, but we are prepared to adapt because it is important we continue what we have built the past four seasons and play hockey this year. Hopefully a lot of this extra work will go away once we start the season and drop the puck."
Captain and forward Dylan Schuett (29 points) returns for a third and final NAHL season. The assistant captains include forwards Ricky Boysen (20 points, Liam McCanney (32 points), and Tyler Cooper (31 points), who were all major contributors last season. Along the blueline, Alexander Tertyshny (10 points) is one of three defensemen who will be back from last season to join the veteran forwards.
Erikson said that with a veteran group, it was important to get an early start on the season to build chemistry and lockerroom cohesiveness. "Our players are coming in ready to go. They are in shape and they know what it takes to be a junior hockey player. They know the grind, they know how to eat, how to workout, how to take care of themselves.," said Erikson. "Many of the new players we brought in have NCAA commitments already, so we think that will be a very successful combination with our group of veterans."
"We have been at it for over three weeks. We wanted to get a good head start on things. We had some exhibition games with Danbury a few weeks ago, and while I don't think we played very well, it was good to see our team in a game situation and some of our competition this season," said Erikson. "We have a pretty deep team, so there will be some cuts coming up that are going to be tough. We are excited about our team and what we are capable of this season. We aren't afraid of anybody and I think we can we are looking to win the division and make a run towards the Robertson Cup."
Next Up: Odessa Jackalopes