NA Now: New Mexico Ice Wolves
October 2, 2020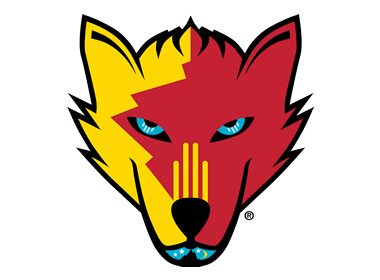 The NA Now series features a look at all teams in the NAHL for the 2020-21 season, with a new team being highlighted daily, leading all the way up until the start of the regular season. NA Now looks into each NAHL team and will include video segments with all the head coaches in the NAHL, as they provide fans with their expectations and outlook for the season, including taking a look at their strengths as a team and thoughts on the league. It will also take a look back on last season and how each team fared and what they accomplished.
New Mexico Ice Wolves
Head Coach: Phil Fox (2nd Year)
2019-20 record: 52 GP, 13-34-6, 31 pts. (6th in the South Division)
2019-20 leading scorer: Alex Dominique (30 Points)
2020-21 Division: South
First regular season game: Friday, October 23rd @ Lone Star Brahmas
Home opener: Friday, November 6th vs. Lone Star Brahmas
The first-year New Mexico Ice Wolves made a splash in the NAHL from the start in 2019-20. As an expansion team, the Ice Wolves faced a tough challenge to be competitive in the South Division, but after a slow start, the team had a very good second half of the season.
Games at the newly renovated Outpost Ice Arenas were played before sellout crowds as the surrounding community embraced the team and the NAHL level of play. As a result, the team was honored as the 2019-20 NAHL Organization of the Year, which was a nice exclamation point to a shortened season.
Head Coach Phil Fox, who returns for his second season behind the bench, said that the organization learned a lot in Year 1. "We all know the NAHL is really good and really deep, but I think last year was a reminder of just how far the league has come and how good it is today. It's been 15-16 years since I played, and while I thought the league was really good back then, it has made huge strides to what it is today," said Fox. "I thought our season went really well as a whole. Our players invested a lot and we definitely showed improvement as the season went on. For a first-year team to win the Organization of the Year award was remarkable."
The Ice Wolves also saw their first NCAA commitments in team history, which was highlighted by goaltender Josh Graziano's NCAA Division 1 commitment to Union College. After playing in 20 games during the first half the season for New Mexico, Graziano departed for Union during the second half of the season and appeared in four games for Union during the second half of 2019-20.
Watch: New Mexico Ice Wolves season preview
The development of players to move onto the NCAA is something that Fox is putting a bigger focus on for the 2020-21 season. "We have to keep the focus on development. The opportunity the league provides is because of the development that each team is focused on. Having a lot of returners who aren't committed yet is going to be a good thing for us this season. They are experienced, they are hungry, and they all have a goal in mind of wanting to move onto the next level. This year is their time to shine. It is a process and this upcoming season is the time to put it all together," said Fox.
The Ice Wolves will have a healthy amount of returning players to the line-up this season, which includes almost their entire defensive corps from a season ago. Brandon Holt and Keegan Langefels both return after putting up 14 points apiece last season. Sean Henry (10 points), Logan Martinson (7 points), Mitchell Becker (6 points), Liam Ovington, and Cooper Anderson all will be back for the Ice Wolves with a year's experience under their belts.
"It is nice to have some returners. We are returning almost all of our defense on the backend and have a nice group coming back up front, so I think that will be a huge help and make a difference this season," said Fox.
Up front Griffen Sanom (24 points), Spencer Rudrud (22 points), Cole Hanson (13 points), Jackson Wille (9 points) and Michael McCosh (9 points), all return to the line-up and will be looking to improve the offense, as the Ice Wolves ranked just 24th last season in goals scored at 2.02 per game.
"Our goals in 2020-21 are to have more wins and put ourselves in playoff contention. We have to get off to a solid start. We want to always keep improving so that by the second half of the season as playoffs approach, we are playing our best hockey," said Fox. "It is going to take consistency and a lot of hard work. Playing in the South Division last year was an eye-opener. Teams are well-coached, play fast, and are physical.
"Right now, we have to do things a little differently in New Mexico because of all the restrictions, but we are happy to be playing hockey. We are going to have to make sure we are reminding our players to continually follow protocols to the point where its automatic for them. We all have to take care of each other, said Fox.
Next Up: Northeast Generals