NAHL alums celebrate Stanley Cup Championship
September 29, 2020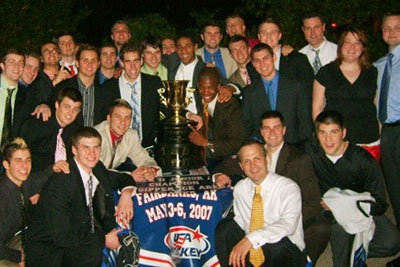 On Monday night, the Tampa Bay Lightning defeated the Dallas Stars, 2-0 in Game 6 of the Stanley Cup Final 363 days after the puck dropped on the 2019-20 season, the Lightning putting together a dominating performance in the clinching game to win arguably the most difficult Cup ever contested.
It was a very special moment for three members of the Lightning whose path wound through the North American Hockey League (NAHL) on the way to hockey's holy grail. They included head coach Jon Cooper, forward Pat Maroon, and defenseman Kevin Shattenkirk.
Cooper began his NAHL coaching career with the Texarkana Bandits in the 2003-04 season. He coached in the NAHL a total of five seasons with Texarkana and St. Louis, totaling 290 regular season games, which is second only to his time served coaching in the NHL. In 2004-05 and again in 2007-08, he was honored as the NAHL Coach of the Year. Cooper led the Bandits to back-to-back Robertson Cup Championships in 2007 and again in 2008.
Cooper, 53, moved from job to job and league to league for 14 years but was never once fired. Everywhere he went, he left a trail of victories and admirers in his wake.
"In a team sport, I truly believe that failure you have to feel it before you can have success," Lightning head coach Jon Cooper said after Game 6, joined on the stage with his entire coaching staff, most smoking a celebratory cigar. "There's some blessed ones that don't have to go through that, but it makes it, you wear the bumps, you wear the bruises, you wear the heartache, you wear the feelings, you wear it on your sleeve and it keeps you up at night. But it also drives you. And it almost becomes the fear of losing becomes greater than the joy of winning. And we were not going to be denied as a staff, but our players weren't going to be denied. We've got to get up here and talk about and own it what happened last year, but so do the players. The players took it on the chin. And I can't be happier for those guys because they deserve it. Those guys have gone through so much heartache, and to come back year after year after year and take our swings and take our licks and sit here all of a sudden to be talked about…We were talked about as the team that can't get it done, you know what, we got it done. And it wasn't without failures along the way."
Pat Maroon became the third player in the NHL expansion era to win the Stanley Cup in back-to-back seasons with different teams when the Tampa Bay Lightning defeated the Dallas Stars 2-0 in Game 6 of the Stanley Cup Final at Rogers Place in Edmonton on Monday.
"To be in that category is something amazing," Maroon said. "… I can't believe I'm in this position again. … This is amazing. An amazing accomplishment for me and my teammates, and I'm happy to be still playing here."
Maroon had six points (one goal, five assists) in 25 postseason games for the Lightning, including an assist on Blake Coleman's goal in the second period Monday to help close out the series in Edmonton, the hub city for the Final.
"They were both emotional years, I guess," Maroon said. "St. Louis was obviously different going from last (after games of Jan. 2) to first and then making that amazing run. And then this year with the pause (to the NHL season March 12 due to concerns surrounding the coronavirus) and then being in this bubble, two different scenarios but two amazing groups and I wouldn't have done it without these guys."
Maroon played for Coach Cooper in the NAHL during the 2005-06 and 2006-07 seasons. During his first NAHL season in Texarkana, Maroon recorded 60 points in 57 games and was named to the NAHL's All-Rookie Team. The Bandits moved to St. Louis the following year, when they won the first of back-to-back Robertson Cup National Championship titles. Their first of those titles came in 2007 when the Bandits defeated the Mahoning Valley Phantoms 8-4 on May 6, 2007 in Fairbanks, Alaska. Maroon, who was the league's MVP that season with 95 points in 57 games played, recorded an astounding 23 points in just 12 playoff games on the way to the title, which included a hat-trick and an assist in the Championship game. Maroon's 23 points still stands as the NAHL record for most points in a single post-season.
Cooper credited Maroon for accepting what he was given on a team loaded with high-end skill. Maroon scored 23 points (nine goals, 14 assists) in 64 regular-season games.
"He's a good teammate," Cooper said. "He knows his role, so he's knows the minutes he's going to get. I'm a big believer in giving guys roles and make sure they all know what they are, and he knows his. He's got character and he is a character, so it's kind of two good attributes to have. Really good team guy."
Shattenkirk played in 42 career NAHL games with the National Team Development Program from 2005-07. He recorded 28 career NAHL points from the blueline.