September 26, 2020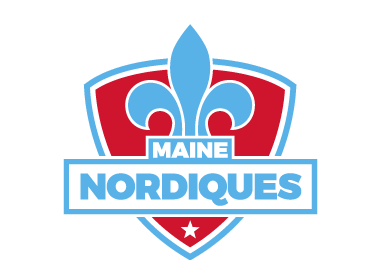 The NA Now series features a look at all teams in the NAHL for the 2020-21 season, with a new team being highlighted daily, leading all the way up until the start of the regular season. NA Now looks into each NAHL team and will include video segments with all the head coaches in the NAHL, as they provide fans with their expectations and outlook for the season, including taking a look at their strengths as a team and thoughts on the league. It will also take a look back on last season and how each team fared and what they accomplished.
Maine Nordiques
Head Coach: Nolan Howe (2nd Year)
2019-20 record: 54 GP, 20-32-2, 42 pts. (7th in East Division)
2019-20 leading scorer: Noah Kane (64 Points)
2020-21 Division: East
First regular season game: Friday, October 9th vs. Northeast Generals
Home opener: Friday, October 9th vs. Northeast Generals
Despite being an expansion team last season, the Maine Nordiques showed all the signs of being an NAHL playoff contender in their first season. The Nordiques supplied plenty of offense in Year 1, which included being ranked 8th in goals scored at 3.52 goals per game. That also included 64 points from forward Noah Kane, which tied for the league lead.
However, defensively, things were not so good in Year 1 for the Nordiques. The team ranked next to last in goals allowed during the season at 4.26 per game. Still, when all was said and done, the Nordiques kept themselves in playoff contention the entire year and were just five points behind the fourth and final playoff spot when the season ended.
"Last year's ending was tough for our players, but we built something really special and we are excited that it provides us some momentum as we head into Year 2," said Howe. "I think we showed we can play an exciting brand of hockey and develop players. It is now up to everyone to take that next step," said Howe.
The Nordiques also had nine NCAA commitments last season, which included four NCAA Division 1 commitments including Kane, who committed to Mercyhurst. It was very good for a first-year team and showed they benefitted from the development process, in addition to the favorable location in the East for their games.
Watch: Maine Nordiques season preview
"Last year was a great learning experience. I think it first starts with me. I learned a lot and what it takes to run a team on a daily basis," said Nordiques head coach Nolan Howe. "Going into this year, we knew we had to be better defensively. Whether it was goaltending, defense, or forwards with a two-way mindset, everyone has to be better and more responsible when it comes to defending. It was a big focus of ours with our tenders and draft picks. We rebuilt almost our entire back end," said Howe.
Up front, the Nordiques return some key pieces that should keep the scoring up, which includes the likes of Cannon Green, who led the team in goals last season with 23 and who was 2nd in points with 52. Fan favorite Isaiah Fox also returns fresh off a 37-point season last year. Makem Demers also returns after putting up 21 points in just 29 games last season, which was cut short due to injury.
The off-season saw some important defensive acquisitions, which included James Philpott and Cooper Swift, who are two defensemen with junior experience that should help the Nordiques tighten up their back end. The Nordiques also return defensemen Luke Antonacci and Jacob Crespo, who should both have bigger roles in Year 2 for the Nordiques.
Tyriq Outen has been brought in to be the main starter in goal for the Nordiques and his experience includes a full season playing in the QMJHL. Avery Sturtz, who played in 23 games for the Nordiques last season, will also be back between the pipes.
"We want to make sure our fans and Nordique nation can come see us play. Our facility has great and we think we have improved our broadcast, so that if people did stay home to start the season, they still will have an enjoyable viewing experience. We are hopeful things can move forward in a safe and healthy way, making sure that we adhere to the league guidelines and state protocols. We are going to have an improved team this year, so we are hopeful that we can get as many people out to watch us as possible," said Howe. "It starts with training camp and it starts with me. I have made a real effort to be a teacher first and foremost on and off the ice. Our group has really come together quickly at training camp and developed some great chemistry. I think we are going to try and play more aggressive and with some speed. We have a great family atmosphere and I think we can be a playoff contender that sees many more NCAA Division 1 commitments."
Next Up: Maryland Black Bears