NA Now: Kenai River Brown Bears
September 24, 2020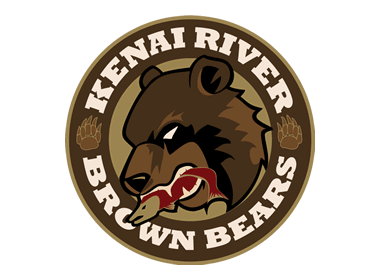 The NA Now series features a look at all teams in the NAHL for the 2020-21 season, with a new team being highlighted daily, leading all the way up until the start of the regular season. NA Now looks into each NAHL team and will include video segments with all the head coaches in the NAHL, as they provide fans with their expectations and outlook for the season, including taking a look at their strengths as a team and thoughts on the league. It will also take a look back on last season and how each team fared and what they accomplished.
Kenai River Brown Bears
Head Coach: Kevin Murdock (2nd Year)
2019-20 record: 52 GP, 27-19-6, 60 pts. (3rd in the Midwest Division)
2019-20 leading scorer: Zach Krajnik (56 Points)
2020-21 Division: Midwest
The Kenai River Brown Bears were among the group of teams who hated to see the 2019-20 season come to an abrupt end. For the first time in six seasons, the Brown Bears appeared headed back to the Robertson Cup Playoffs and their 27 wins were the most since the 2013-14 season.
Head Coach Kevin Murdock did a remarkable job in his first season as an NAHL head coach, not only guiding the team back to the playoff hunt, but also making sure that players were seen and made NCAA commitments. A total of 13 players from last year's squad ended up with an NCAA commitment, which was a huge improvement from the five players that made NCAA commitments the season prior.
"This year was one of the better years in recent memory for our organization, so it was unfortunate that we were not able to see that through, particularly for our players that aged out," said Murdock.
Among the 13 players who committed was leading scorer Zach Krajnik, who is headed to Alaska-Anchorage to play NCAA Division 1 hockey. Forward Logan Ritchie, who led the Brown Bears with 22 goals last season, is headed to St. Lawrence. Perhaps one of the more satisfying commitments came from defenseman Preston Weeks, who not only set the all-time NAHL games played record with 233 career regular season games, but then made an NCAA Division 1 commitment to Alaska-Anchorage at the end of the season.
"For us, NCAA commitments are the number one goal. Everyone wants to win, but we take a lot of pride in developing players from start to finish to watch them grow and develop to the point where they are making an NCAA commitment. It's about hard work and being able to follow and watch a player's progression. We were very happy with the commitments this past season and being able to contribute to the record-breaking NAHL total in 2019-20," said Murdock.
Watch: Kenai River Brown Bears season preview
The 2020-21 season will look different for the Brown Bears and much like their Alaskan counterpart, the Fairbanks Ice Dogs, the Brown Bears will play the first half of the season away from home as they will call Breezy Point, Minnesota, their home in October, November, and December.
"With travel restrictions, travel protocols, COVID testing, etc., we are faced with looking at everything through a wide lens. With all factors considered, we have concluded that we will begin the season in Minnesota. Our plan is to host training camp and play the first portion of our season there. As we all face daily, COVID is constantly evolving and moving, making it hard to get concrete facts to make decisions from. We hope to be back in Alaska when COVID and travel protocols allow," said Brown Bears General Manager Chris Hedlund.
"With the NAHL Showcase traditionally being at the start of the season in Minnesota, we have been used to beginning the season and playing the first month or so on the road, so this year will just be a longer extension of that. Ultimately, we want to keep everybody safe the entire season," said Murdock. "I think the number one goal and concern at the moment is getting the season underway and making sure we do our part to make sure we play an entire season. It is going to take a collective effort from all of our teams to make sure we stay safe and playing."
"I am excited about this year's group. We are fortunate to return a lot of forwards, so we should be able to adapt and begin the season on a strong note. A lot of the guys we have coming back played a big part during our 10-game winning streak last year," said Murdock. "This year will be interesting and different. There will be a lot of moving pieces to start the season. I think talent-wise, the league will be very good this year, so there should be plenty of NCAA commitments and the competition will be great. We are excited to start."
Some of those key pieces from last year include forwards Porter Schachle (37 points), Peter Morgan (45 points), Max Helgeson (44 points) and Laudon Poellinger (23 points). On the backend, the Brown Bears return defensemen Adam Szubert (14 points), Ryan Reid (13 points), and Dylan Hadfield (8 points).
Next Up: Lone Star Brahmas