NAHL, Jackalopes alum Hellebuyck wins Vezina Trophy
September 22, 2020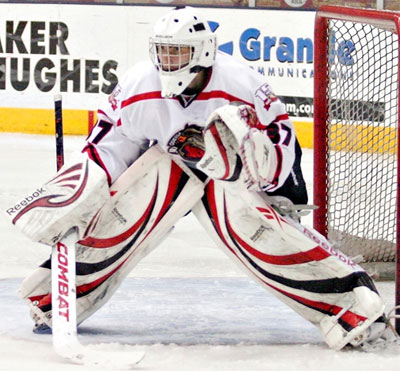 North American Hockey League (NAHL) and Odessa Jackalopes grad and goaltender Connor Hellebuyck of the NHL's Winnipeg Jets won the Vezina Trophy as the best goalie in the NHL for the 2019-20 season.
Hellebuyck, who was the runner-up for the Vezina in 2017-18, is the first goalie in Jets/Atlanta Thrashers history to win the award.
"It's very rewarding and almost a little bit of a sigh of relief because I was so close last time and I wanted it so badly," Hellebuyck said. "This year was just such a mental grind but was also so fun. I would have liked for the [postseason] to go a little bit better, but you know, when I'm looking back on this year, I'll say we did some great things."
Hellebuyck, 27, backstopped the Jets to a place in the Western Conference Stanley Cup Qualifiers, leading all goaltenders in games (t-58), shots faced (1,796), saves (1,656), and shutouts (6) during the season. The Commerce, Michigan native ranked second overall in starts (56), wins (31), and minutes (3,268:33). Hellebuyck recorded 31 of the 37 Jets wins (83.8%), the second-highest percentage among goaltenders on the 24 teams that qualified for the NHL postseason.
Hellebuyck began his junior hockey career with the NAHL with the Odessa Jackalopes in 2011-12. He won 26 of the Jackalopes 27 overall wins that season, and propelled the Jacks to a playoff berth in their first season in the NAHL. Hellebuyck raked in the hardware that year as well. Hellebuyck was named Goaltender of the Year, Rookie of the Year, All-NAHL First Team, All-South Division Team, and NAHL All-Rookie Team during that storybook season. Hellebuyck was also the Jackalopes first ever Division I college commit, signing his letter of intent to play at UMass-Lowell.
"Any time you get an award and get recognized by the league, it's more of a milestone for your entire family. My parents were very proud, and they followed me all through that year in the NAHL," said Hellebuyck. "I had a blast. The Odessa organization was fantastic, the owners were great, everyone around the rink was awesome. It's one of the more high-end places, everything was top-notch. They wanted their players to succeed, and they did everything they possibly could to make that possible. I lived with a [billet] family down there, and I had a lot of fun with them, as well."
Hellebuyck gave a lot of credit to the Jackalopes ownership and coaching staff for the evolution of his game to the point where he was later able to make an impact in the NCAA. The Jackalopes also made him an NHL prospect – the Jets drafted him that summer of 2012 in the fifth round.
"Coming out of high school to the NAHL, I learned the mental game with [former Jackalopes general manager] Joe Clark," said Hellebuyck. "That was one of the biggest things I needed to improve upon, and Joe was a very big mentor with that. They also helped me change the technical side of my game – using my size and positioning to my advantage, to make myself look big in the net," said Hellebuyck. "We also worked on rebounds and all the technical aspects of goaltending, really."
After going 44-11-9 with a 2.36 GAA and .924 save percentage in 2017-18, Hellebuyck was 34-23-3 with a 2.90 GAA and .913 save percentage last season. Before this season, he said he not only intended to bounce back, but to win the Vezina.
Hellebuyck faced 37-or-more shots on 13 occasions and posted a 10-1-2 record, 2.08 goals-against average, and a .949 save percentage in those contests. That includes a career-high 51 saves in a 3-2 win at San Jose on Nov. 1/19 where he set the franchise record for saves in a period with 27 in the second frame.
"Almost feels like getting a little bit of a monkey off my back after saying that, but now I really am looking forward to the next one. The next one's going to be very glorious, and that's winning a Cup," he said. "It's not going to be easy and it's going to be not just me. There's going be a whole team in front of me that are all going to have to buy in, kind of like we did this year, just battle and grind. I think we have the locker room for it, and it's only going to get better."
Hellebuyck faced at least 37 shots in 13 regular-season games and was 10-1-2 with a 2.08 GAA and .949 save percentage in those games. He made an NHL career-high 51 saves in a 3-2 win at the San Jose Sharks on Nov. 1, when he set the Jets/Thrashers record for saves in a period with 27 in the second.
Hellebuyck finished with 123 points, including 19 first-place votes, in voting for the award by NHL general managers before the postseason began.