NA Now: Danbury Jr. Hat Tricks
September 20, 2020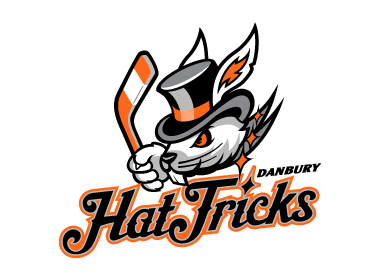 The NA Now series features a look at all teams in the NAHL for the 2020-21 season, with a new team being highlighted daily, leading all the way up until the start of the regular season. NA Now looks into each NAHL team and will include video segments with all the head coaches in the NAHL, as they provide fans with their expectations and outlook for the season, including taking a look at their strengths as a team and thoughts on the league. It will also take a look back on last season and how each team fared and what they accomplished.
Danbury Jr. Hat Tricks
Head Coach: Billy McCreary (1st Year)
2019-20 record: 53 GP, 26-22-5, 57 pts. (3rd in East Division) *as WBS Knights
2019-20 leading scorer: Lincoln Hatten (61 points) *with WBS Knights
2020-21 Division: East
Back on May 11th after the 2019-20 season had been canceled for two months, the NAHL announced that the Wilkes-Barre/Scranton Knights had been relocated to Danbury, Connecticut for the 2020-21 season.
Danbury inherited a team that finished the 2019-20 season in 3rd place in the East Division with a 26-22-5 record and well in position to make the playoffs.
Taking over the head coaching reigns in Danbury will be Billy McCreary, who himself is an NAHL graduate. He played junior hockey in the NAHL for the Texas Tornado and amassed 45 goals and 71 assists in 98 career games. He was named to the All-Rookie team and a First Team All-Star during the 2002-03 season. This past season, McCreary was the head coach and general manager of the Danbury Hat Tricks of the FPHL and was named as the league's Coach of the Year.
"The the arrival of the North American Hockey League in Danbury has generated so much excitement for our community and our state. The NAHL has been instrumental in developing players into NCAA student athletes and we are honored to be a part of the league and looking forward to continuing that tradition," said McCreary. "We are committed to not only helping our players achieve their goals, but to also build a 'family' that competes for a Robertson Cup year in and year out. "
Danbury and the 2,500-seat Danbury Arena was market of interest for years for the NAHL and will not only be home to the Jr. Hat Tricks of the NAHL, but the team of the same name in the NA3HL as well.
"We want to build a culture that develops leaders and we want our players to work hard. Player development and player placement is first on our priority list," said McCreary.
"Being a first-year team in the NAHL, we have to establish the right values. We have tried to identify some players with good character who are going to be adapt to the situation this year and have the right mindset, who are willing to be a part of something new and something special," said McCreary. "This year is doing to be a lot different than any other normal year, so we have to have a group that is going to be mentally tough and make some sacrifices."
Watch: Danbury Jr. Hat Tricks Season Preview
"I think in Year 1, we have the same goals as everyone else, which is to be the best we can be, develop players to move onto the NCAA level, and win a Robertson Cup. We want to get better every day and become closer group every day. This is an opportunity for our players to chase their dreams, so it is up to us to help them make the most of it. There is a very small window to play junior hockey, so we want to be sure we are doing everything we can to make sure our players know that and take advantage of it."
The Jr. Hat Tricks will have a few pieces from the Knights to work with this season and also provide a veteran presence. Forward Shane Murphy, 20, is coming off a solid rookie NAHL season last year with the Knights, recording 14 points in 44 games played. "Shane is a gritty, hard-working player that puts the team first and we will be looking upon him to be a leader," said McCreary.
Defenseman and Brown University commit Spencer Evans also will return to the NAHL after putting up six points in 44 games with the Knights last season. "Spencer plays a tough physical game and is not easy to play against. He is also just 18-years-old, so there is a lot of room for growth," said McCreary.
McCreary also mentioned that because of the current landscape, the Jr. Hat Tricks have added some additional players with NAHL experience like Ben Biester and Luke Wheeler, who both come via the Corpus Christi IceRays. Defenseman Nolan Barrett and forwards Alex Krause and Cody Hoban should also be valuable additions to help the Jr. Hat Tricks with scoring and will be dynamic players that will help Danbury to the next level and achieve success.
Next Up: Fairbanks Ice Dogs