Stanley Cup Final has plenty of NAHL flavor
September 18, 2020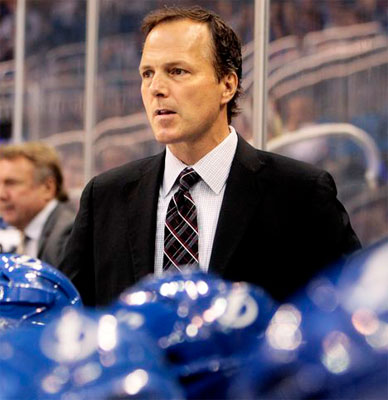 The 2020 NHL Stanley Cup Final is set and no matter who wins to hoist the Cup this year, there will be an NAHL flavor.
Six players or coaches with NAHL ties will face-off in the final series as the Eastern Conference Champion Tampa Bay Lightning face the Western Conference Champion Dallas Stars.
Tampa Bay has three members of the team with NAHL ties. They include head coach Jon Cooper, forward Pat Maroon, and defenseman Kevin Shattenkirk.
Cooper began his NAHL coaching career with the Texarkana Bandits in the 2003-04 season. He coached in the NAHL a total of five seasons with Texarkana and St. Louis. In 2004-05 and again in 2007-08, he was honored as the NAHL Coach of the Year.
Maroon played for Coach Cooper in the NAHL during the 2005-06 and 2006-07 seasons. During his first NAHL season in Texarkana, Maroon recorded 60 points in 57 games and was named to the NAHL's All-Rookie Team. The Bandits moved to St. Louis the following year, when they won the first of back-to-back Robertson Cup National Championship titles. Their first of those titles came in 2007 when the Bandits defeated the Mahoning Valley Phantoms 8-4 on May 6, 2007 in Fairbanks, Alaska. Maroon, who was the league's MVP that season with 95 points in 57 games played, recorded an astounding 23 points in just 12 playoff games on the way to the title, which included a hat-trick and an assist in the Championship game. Maroon's 23 points still stands as the NAHL record for most points in a single post-season.
Shattenkirk played in 42 career NAHL games with the National Team Development Program from 2005-07. He recorded 28 career NAHL points from the blueline.
The Dallas Stars also have three members with NAHL ties. They include goaltender Ben Bishop, defenseman Stephen Johns, and forward Joe Pavleski.
Bishop played as an 18-year-old in the NAHL during the 2004-05 season for the Texas Tornado. During that season, he led the Tornado to their second of three straight Robertson Cup Championships. He also led the NAHL in wins that season with 35, ranked 2nd in goals against average (1.93) and was 3rd in save percentage (92%). He was also named to the 2004-05 NAHL All-Rookie Team that season.
Johns played in the NAHL during the 2008-09 season for the National Development Team Program, recording eight points in 31 career NAHL games.
While Pavelski didn't play in the NAHL, he has been a Co-Owner of the Janesville Jets since the team's inception in 2009.