On Top of Her Game: Robyn Remick
September 1, 2020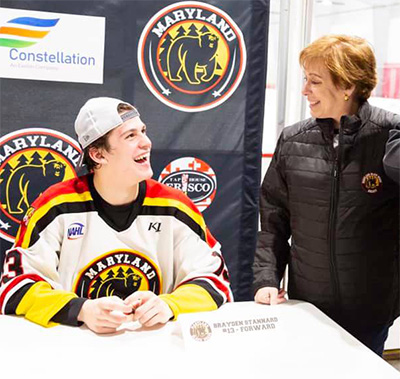 By Tom Worgo, USA Hockey Magazine
Robyn Remick is unique to her position in more than one respect. To start with, she is the only female president out of about 200 junior hockey teams across North America. In that respect, she's a trailblazer, although she doesn't feel particularly comfortable about being one.
"I would have liked to have been the second or third woman president," Remick says. "I don't love being the only anything. My goal is to bring the next one in. You're not measured on your gender, but on your success. I am judged on if I'm getting people in the building and bringing sponsors on."
Her co-workers lavish her with praise, not only for her people skills and marketing work, but also the long hours she puts in. Remick's focus is also significantly different than most of her peers in another respect. Unlike most team presidents who have operational backgrounds, she has spent her career in marketing and sales. That said, with Remick's credentials—she has worked as an executive for ESPN, Disney and A&T—she could have probably gone almost anywhere.
Instead, she saw an irresistible challenge in building the Maryland Black Bears – who compete in the North American Hockey League (NAHL) and play their home games at the Piney Orchard Ice Arena in Odenton, about 20 miles from Washington, D.C.— from scratch.
The Black Bears have drawn upwards of 550 people to their home games at the community ice rink. They compete in the East Division of the NAHL, which includes teams in Pennsylvania, New York, Connecticut and Maine. Players range in age from 17 to 21.
What makes her job that much more challenging is that the Black Bears are the first professional junior ice hockey team ever in Maryland and one of only a handful of teams in the southern half of the United States.
"I am at the point of my career where I can do pretty much anything I what I want to do," says Remick, 58, who has been the team's chief executive almost since its founding in 2018. "This sounded like a great opportunity. I love building things. It was building a team, a culture and an organization from the ground up."
She's made marketing and sales efforts the most crucial part of her job. Twenty sponsors account for 40 percent of the Black Bears' budget. Remick has attracted a gambit of businesses, including a bank, landscaper, insurance company, defense contractor and a non-profit health care organization. And every day, she's pursuing new sponsors with an abundance of enthusiasm.
"We try to develop different ways that our sponsors can reach out directly to our fans through our social media channels," she explains. "Our sponsors are critical."
As an example of how this direct sponsors-to-fans system works is the relationship Remick has worked out with Frisco Tap House, which has locations in Columbia and nearby Gambrills and was one of the team's earliest sponsors. Frisco has since included a Black Bear Burger on its menu.
"When the shutdown came, we kept in close touch with them," she recalls. "As soon as we had any news on their reopening, we let our fans know. We also retweet their tweets and created new tweets telling fans if they went to Frisco to pick up curbside, to take a picture of their food and we will share that."
Remick also puts a lot of imagination into developing entertaining and light-hearted intermission activities. These include parents pulling kids in a sled race, slapshot contests, kids coming on to the ice to throw paper airplanes, something called soccer in a bubble and adults riding around on tricycles in an event called the Tricathlon.
"I know there are other teams that don't put so much energy into intermission activities as we do," Remick says. "We look to create great entertainment at every single game and every minute they spend with us."
Black Bears' owner Murry Gunty says that even though Remick is new at creating this sort of hoopla, she's quickly learned to excel at it. He considers it one of the most important of her many accomplishments.
"The things she does are akin to the activities you see at minor league baseball games," Gunty says. "They are off the wall, fun, zany, exciting and include people of all ages. That's her approach. She's done this in such a smart way."
Supporting local organizations is also important to Remick. For every one of the 28 games of the regular season, they partner with a different charity or service organization. Some of these include the Girl Scouts of America, a Military Appreciation Night and Fidos For Freedom Maryland, a nonprofit that assists people who need hearing dogs, service dogs and therapy dogs.
Remick puts a huge emphasis on customer service, too. At games, she even greets all the fans who come through the gates. She makes a point of getting to personally know all the season ticket holders. "I talk to everybody who has kids in youth hockey to retirees who just love hockey," she says.
Remick's customer service skills impress Gunty as much as anything. He likes how she makes them feel recognized and appreciated. "You want to make sure your high-value customers are taken care of, and she does an extraordinary job of taking care of them," he says. "We have people that go on the road with the team and she makes sure they have an incredible experience."
Black Bears' coach and general manager Clint Mylymok appreciates Remick's generosity toward team supporters. "She's the face of the franchise," he says. "She has time for everyone, and I don't think a lot of presidents do that. She is always there for the fans and players."
To get all this done means a grueling work schedule for Remick, who has nearly an hour commute from her home in the Baltimore suburb of Reisterstown. Her daily off-season schedule can stretch out as long as 10 hours and 13 during the season. "I eat dinner at one in the morning and it still tastes good," she says.