Kansas City Scouts exercise option to sit out the 2020-21 season
August 26, 2020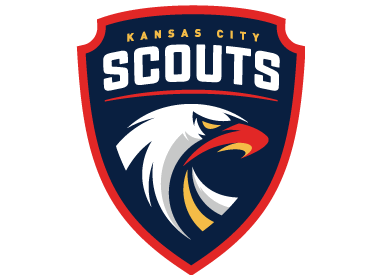 The North American Hockey League (NAHL) has announced that the Kansas City Scouts have opted to sit out the 2020-21 season. The Scouts will not play during the 2020-21 season but have set a return date for the 2021-22 season.
A dispersal draft will be held in the near future for those players currently on the Scouts 2020-21 Protected List, which includes veteran players, tenders, and draft picks.
"The Scouts had recently transitioned to a new area and it became clear that the effects of the COVID-19 pandemic were going to restrict their operations. It is important for us to continually to be able to adapt and keep dialogue open with our teams to address their concerns, and we support the Kansas City Scouts decision and look forward to their return in 2021-22 in the Kansas City area," stated NAHL Commissioner and President Mark Frankenfeld.
The Kansas City Scouts (formerly the Topeka Pilots) were scheduled to play the 2020-21 season in their new home in Shawnee, Kansas, after announcing a relocation from Topeka on May 11, 2020. They join the Corpus Christi IceRays as inactive teams for the 2020-21 season.
The Pilots had clinched a spot in the Robertson Cup Playoffs and was in 3rd place when the season was canceled back in March with a 33-14-5 record. The team had 17 players make NCAA commitments during the 2019-20 season, including eight NCAA Division 1 commitments.
The Scouts organization was purchased by Loretto Sports Ventures led by Lamar Hunt Jr. back on April 18, 2018 and were renamed the Pilots for the 2018-19 season.
"The Kansas City Scouts, a North American Hockey League member team, has notified the league of its intention to forego participation in the upcoming 2020-21 season. Recognizing this as a year of transition for our franchise with new branding and the local restrictions in place because of the COVID pandemic, the Scouts have decided to step back and begin preparations to launch the brand for the 2021-22 season. The Scout's organization will continue to be fully present in the hockey community, look for opportunities to engage in camps, clinics, and skills training for players of all ages, and thus begin to build that brand awareness. All on-ice activities will be conducted within full compliance of the local, state, and federal guidelines. The Scouts sincerely appreciate the support of the NAHL, its members teams and fellow owners, and the Kansas City hockey community," said Scouts Owner and Governor Lamar Hunt Jr.