NA3HL enjoys record advancement to NAHL following Draft
July 24, 2020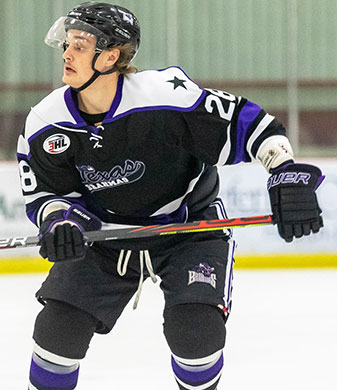 The North American 3 Hockey League (NA3HL) is pleased to announce that it is has once again set a new standard for player exposure and advancement to the North American Hockey League (NAHL) thanks to some record-setting numbers on the heels of the completion of the 2020 NAHL Entry Draft, which took place on Tuesday, July 21st.
Not only did 27 NA3HL players sign a tender to play in the NAHL for the upcoming 2020-21 season, but 28 more players were selected in the 2020 NAHL Entry Draft on July 21st.
No other league has had more movement and advanced more players onto play in the NAHL than the NA3HL. Thanks to additional and enhanced initiatives that have been in place for the past few years in cooperation with the NAHL, more players from the NA3HL play, practice, and earn NCAA Division I scholarships with the NAHL than any other league.
"A big part of our success lies within the NAHL family of leagues, which includes NA3HL. Each year we experience more in season movement and more advancement up the ladder of development than the year before and this year was is no different," said NAHL Commissioner and President Mark Frankenfeld. "The enhanced development and advancement initiatives put in place a few years ago has increased the numbers and have provided an additional development path and enhanced experience for those players in the NA3HL. We all share in the common mission of creating an enhanced level of play and competition that is focused on a player's development and advancement. We also share common goal for players to advance to college hockey while competing and developing in within USA Hockey Ladder of Development."
The NA3HL not only saw 55 of its players tendered or drafted by NAHL teams, but over 50 NA3HL alumni played in the NAHL this past season. The NA3HL also saw six of its former players, who went onto play in the NAHL, make NCAA Division 1 commitments this past season.
The NA3HL is also the only league that has an exclusive NAHL tendering system available only to NA3HL players. The tendering and draft pick process selections play a big part in the eventual advancement of players each season.
"The NA3HL had another tremendous season of player advancement and development. We continue to see the benefits of the relationship with the NAHL and we continue to see the direct and immediate benefits of the development and advancement initiatives we put in place a few years ago. NA3HL players are getting called up, affiliated, and practicing on a regular basis with NAHL teams and we have seen so much interaction with the two leagues that it has built momentum to lead into what took place during the NAHL Draft," said NA3HL Commissioner Blake Macnicol.
As part of the enhanced initiatives that have now been in place for multiple seasons, all NAHL teams engaged and worked in cooperation with NA3HL teams for increased access to players, including allowing NA3HL players to practice with NAHL teams during the season. The program created additional dialogue between NAHL and NA3HL teams to find prospects and provide them an in-season opportunity for NAHL experience and evaluation. Its direct benefits are resulted in one-of-a-kind opportunities not found anywhere else in USA Hockey-sanctioned junior hockey.
The NA3HL also continues to make its mark and is one of the leaders in junior hockey with the advancement of players onto the NCAA. So far in 2020, the NA3HL has over 120+ college commitments, with almost 75% of those being NCAA commitments. In addition, over 300 former NA3HL players are currently playing in the NCAA, and 17% of NCAA Division III freshmen this season previously played in the NA3HL.
Click here for a list of 2020-21 NA3HL tenders
Click here for the 2020 NAHL Entry Draft results
NA3HL Players selected in the 2020 NAHL Entry Draft
Joe Clark, Forward, Janesville Jets, Round 4, #92 (L/A Nordiques, 2019-20)
Dylan Schneider, Forward, Minot Minotauros, Round 4, #98 (Rochester Grizzlies, 2019-20)
RJ Muckensturm, Forward, New Mexico Ice Wolves, Round 5, #112 (Mid Cities Jr. Stars, 2018-20)
Garret Wilderman, Forward, Odessa Jackalopes, Round 6, #137 (Texas RoadRunners, 2019-20)
Kaydn Fennell, Defense, Maryland Black Bears, Round 6, #145 (New Ulm Steel, 2019-20)
Gavin Gunderson, Forward, Austin Bruins, Round 6, #153 (Rochester Grizzlies, 2019-20)
Kayden Hargraves, Goaltender, Fairbanks Ice Dogs, Round 6, #160 (Texas Brahmas, 2019-20)
Tyler Blanchard, Forward, Lone Star Brahmas, Round 6, #162 (Texas Brahmas, 2018-20)
Connor Bennett, Forward, Springfield Jr. Blues, Round 7, #167 (Peoria Mustangs, 2018-20)
Jacob Cummings, Forward, Jamestown Rebels, Round 8, #197 (Sheridan Hawks, 2019-20)
Ryne Mohrman, Defense, Aberdeen Wings, Round 8, #212 (Alexandria Blizzard, 2019-20)
James Spaargaren, Forward, Wichita Falls Warriors, Round 9, #217 (New Ulm Steel, 2019-20)
Gabe Potyk, Forward, Corpus Christi IceRays, Round 9, #222 (Texas Brahmas, 2019-20)
Jackson Vercellono, Forward, Maine Nordiques, Round 9, #223 (L/A Nordiques, 2019-20)
Jonah Jangula, Forward, Minnesota Magicians, Round 9, #228 (Granite City Lumberjacks, 2019-20)
Blake Campbell, Defense, Danbury Jr. Hat Tricks, Round 9, #229 (Mid Cities Jr. Stars, 2017-19)
Brogan Rumpf, Defense, Shreveport Mudbugs, Round 9, #235 (St. Louis Jr. Blues, 2019-20)
Leevi Selanne, Forward, Bismarck Bobcats, Round 10, #264 (Texas Brahmas, 2019-20)
Blake Billings, Forward, Johnstown Tomahawks, Round 10 #265 (Sheridan Hawks, 2019-20)
Carson Asper, Forward, Northeast Generals, Round 11, #279 (Northeast Generals, 2018-20)
Joe Martin, Forward, Chippewa Steel, Round 11, #286 (Northeast Generals, 2019-20)
Hunter Wilmes, forward, Minnesota Wilderness, Round 12, #311 (Rochester Grizzlies, 2019-20)
Jake Santarelli, Forward, St. Cloud Norsemen, Round 13, #327 (Willmar WarHawks, 2019-20)
Thomas Broten, Defense, Chippewa Steel, Round 13, #340 (New Ulm Steel, 2019-20)
Sean Kenny, Forward, Amarillo Bulls, Round 13, #350 (Skylands Kings, 2019-20)
Cal Couell, Defense, Danbury Jr. Hat Tricks, Round 14, #364 (Texas Brahmas, 2018-20)
Payton Felix, Forward, Kansas City Scouts, Round 14, #371 (Northeast Generals, 2019-20)
Matt Barnes, Forward, New Jersey Titans, Round 17, #456 (Long Beach Sharks, 2019-20)