Maine forward Kent makes NCAA commitment
July 15, 2020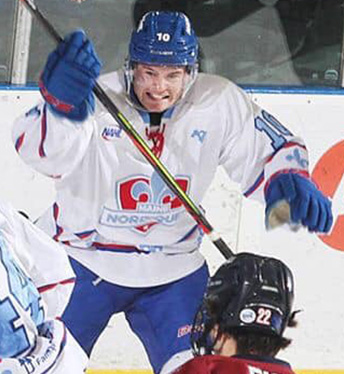 The Maine Nordiques of the North American Hockey League (NAHL) are pleased to announce that forward Timmy Kent has committed to play NCAA Division III hockey for Curry College.
Kent, 20, just completed his first season playing in the NAHL in 2019-20. The 5'9/170 lbs. native of Parkland, Florida finished 3rd in team scoring this past season. In his first game with the Nordiques, he tallied an assist and didn't stop there recording 12 multi-point games including going out with a 4-point night in the last game of the 2019-20 shortened season. Kent finished with 11 goals and 37 assists, good for 48 points in 37 games.
Kent's speed also played a huge factor in his success, he even gained the attention of Nordique Nation who would refer to him as "speedy" whenever they wanted to talk about Tim. He also would be a weapon for the Nordiques at creating turnovers. When he stole the puck his speed usually leads to an odd-man rush and in most cases would light the lamp.
Timmy will stay on the East coast at Curry College in Massachusetts and be playing NCAA Division III college hockey in the fall. The Colonials add a huge piece in their arsenal by adding Timmy Kent as they look to finding another NCAA top 4 finish as they did in 2005, 2010, and 2011.
"Timmy is an unbelievable competitor, and that is what I respected the most from him. He demanded the best from himself and his teammates, and he backed up his words with his actions. Coming back to juniors from college was a big decision for him, one that I am happy he made. He was a force for us from Day 1 as he established himself as a premier player in our league. His speed and creativity really put opponents on their heels, and it was fun to watch the other areas of his game Improve as the season went along as well. I know that he is going to do great things in life and the next step on his journey will be a great one at Curry College, where I know he will have a terrific experience on and off the ice," said Nordiques head coach Nolan Howe.
Associate head coach Matt Pinchevsky also said, "It's not every day you have the opportunity to coach a player at a high-level who you've known since the day they were born. Timmy improved our team from the second he picked up the phone to see if we had a spot. He is contagious in the best way. A player who truly loves the game."
Click here for an updated NAHL to NCAA commitment list