Wilderness forward Worth makes NCAA D1 commitment
June 23, 2020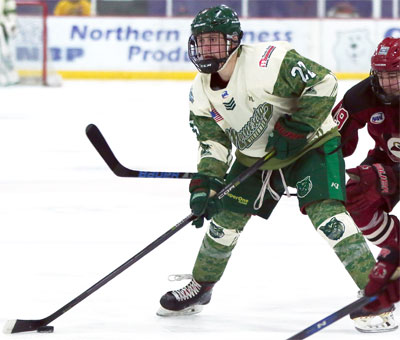 The Minnesota Wilderness of the North American Hockey League are pleased to announce that forward Garrett Worth has committed to play NCAA Division 1 hockey for Long Island University.
Worth, 20, completed a successful junior career this season, which included two separate stops in the NAHL with the Wilderness.
The 5'10/176 lbs. native of Duluth, Minnesota, originally joined the Wilderness in November of 2017 while he was still playing high school hockey in Minnesota for Duluth East High. Worth scored a goal and had an assist in his NAHL debut and would later join the Wilderness in the Spring of 2018 once his high school season was completed. During his senior season at Duluth East, Worth led the Greyhounds to the Class AA State Championship Game.
Worth began the 2019-20 season with the Des Moines Buccaneers in the USHL, but then joined the Wilderness in November and instantly found his scoring touch, recording eight points in his first eight games of the season.
Worth remained as one of the Wilderness' scoring leaders during the season with 25 points in 28 games played.
"It is really cool and I'm very excited. You are a part of history you are going to be a part of their first ever Division 1 team, so a lot of the guys think that is going to be awesome," said Worth. "Playing in the NAHL and for the Wilderness, you not only mature as a hockey player, but you mature in life. Being by yourself and away from home, is really important for the next step in preparing to play in the NCAA."
"Garrett has faced a lot of adversity the last two season of junior hockey, but over this past season I have seen tremendous growth in him. Garrett possesses superb skill and offensive ability that when given the opportunity will more than likely put pucks in the back of the net. I knew before he joined our club that he was a gifted player. I am extremely proud of the growth he has made as a player to develop his game for the NCAA Division I level. Long Island is getting an excellent student of the game and very mature young man. I speak for the Wilderness program when I say that we are excited to watch him take these next steps in his hockey career and wish him the best next season in Long Island," said Wilderness head coach Jon Vaillancourt.
Worth appeared in 116 career games with Duluth East and recorded 141 career points, finishing his career as one of the best players in the program's history.
Click here for an udpated NAHL to NCAA commitment list