NAHL announces Coaches Corner video series
June 10, 2020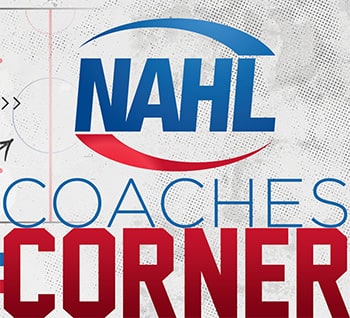 The North American Hockey League (NAHL) is pleased to present a new video series entitled: NAHL Coaches Corner.
From June 11 – July 17, the NAHL will feature one head coach per weekday in a zoom video call series that will be published on NAHL.com in addition to the NAHLTV YouTube page and all of the NAHL's social media outlets.
One of the main things that has contributed to the league's skyrocketing success over the years has been the quality of its coaches.
As teams prepare to hold tryout camps in the upcoming weeks, coaches will be on the lookout for which players will be a part of their 2020-21 rosters, which includes the upcoming 2020 NAHL Entry Draft on July 21st.
NAHL Coaches Corner introduce the league's 27 head coach coaches to players, parents, and fans, as everyone prepares for the upcoming season, which will also include the six new head coaches set to make their debut for their teams.
We will discuss the coach's thoughts regarding the last three months, the current state of affairs in that team's city, why the tryout process is essential in building a team, their thoughts on the Supplemental Draft, and much more.
Here is the publish date schedule for the series (alphabetical by team):
June 11 - Scott Langer, Aberdeen Wings
June 12 - Rocky Russo, Amarillo Bulls
June 15 - Steve Howard, Austin Bruins
June 16 - Layne Sedevie, Bismarck Bobcats
June 17 - Carter Foguth, Chippewa Steel
June 18 - Nate Weossner, Corpus Christi IceRays
June 19 - Billy McCreary, Danbury Jr. Hat Tricks
June 22 - Trevor Stewart, Fairbanks Ice Dogs
June 23 - Joe Coombs, Jamestown Rebels
June 24 - Parker Burgess, Janesville Jets
June 25 - Mike Letizia, Johnstown Tomahawks
June 26 - Simon Watson, Kansas City Scouts
June 29 - Kevin Murdock, Kenai River Brown Bears
June 30 - Dan Wildfong, Lone Star Brahmas
July 1 - Nolan Howe, Maine Nordiques
July 2 - Clint Mylymok, Maryland Black Bears
July 3 - AJ Bucchino, Minnesota Magicians
July 6 - Jon Vaillancourt, Minnesota Wilderness
July 7 - Shane Wagner, Minot Minotauros
July 8 - Craig Doremus, New Jersey Titans
July 9 - Phil Fox, New Mexico Ice Wolves
July 10 - Bryan Erikson, Northeast Generals
July 13 - Jason Fortier, Odessa Jackalopes
July 14 - Jason Campbell, Shreveport Mudbugs
July 15 - Tyler Rennette, Springfield Jr. Blues
July 16 - Corey Millen, St. Cloud Norsemen
July 17 - Garrett Roth, Wichita Falls Warriors