50 Players, 50 Days: Kyle Gierman
May 29, 2020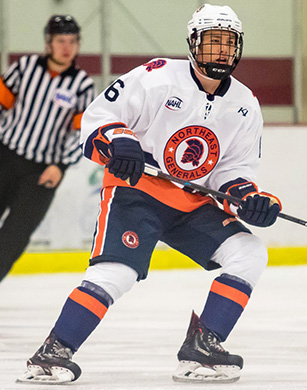 During the current and unforeseen cancelation of the 2019-20 season, the players in the NAHL saw their seasons cut prematurely short. In some cases, players saw their junior hockey careers come to an end as well. However, the NAHL got together a decided to highlight some of those players, who were born in 1999 and were in their final season of playing junior hockey.
As a result, we present a new series entitled: 50 players in 50 days
50 players in 50 days will select 50 players from each of the 26 NAHL teams this past season that were born in 1999, are currently uncommitted, and deserve some recognition during their time spent playing and developing in the NAHL. Over the course of the next 50 days, we will take time out to look at their accomplishments, review their season, and provide some background on their NAHL careers. Players will be initially highlighted in alphabetical order by team. Enjoy!
Kyle Gierman, Defenseman, Northeast Generals
Northeast Generals defenseman
Kyle Gierman
, 21, completed a successful three-year junior career, which saw him rise from the NA3HL to the NAHL.
The 6'0/180 lbs. native of Shelby Township, Michigan, posted 11 points (2 goals, 9 assists) in 41 games played during his final season of junior hockey in 2019-20.
Gierman's junior hockey career began in the NA3HL during the 2017-18 season season as he played a full season with the Metro Jets, where was named to the NA3HL All-Rookie 2nd Team posting 37 points in 42 games played. He also made his NAHL debut that season with the Generals.
In his full NAHL season in 2018-19, Gierman posted 15 points (6 goals, 9 assists) in just 40 games played. Overall in 84 career NAHL games, Gierman posted 26 points.
'Kyle is a great success story. He came up through the NA3HL and made an immediate impact both on and off the ice. He is very skilled, great skater with a high-end shot. He battled injuries in 2018-19 but was still awesome for us all season. He came back after surgery last year and missed only a handful of games. Once he got back into the groove he was once again a steady presence defensively but also a great offense provider with his great vision. His work ethic and toughness really stood out for us in his here years here. He always has a smile, and his teammates love him. He would be a great addition for any NCAA Division 1 program," said Generals head coach Bryan Erikson.
Prior to playing in the NAHL and NA3HL, Gierman played for the Oakland Jr. Grizzlies and the Cranbrook Kingswood School.