50 Players, 50 Days: Emil Gabrielson
May 22, 2020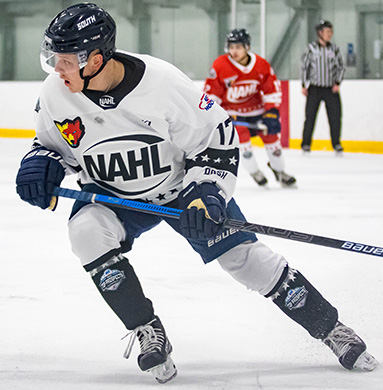 During the current and unforeseen cancelation of the 2019-20 season, the players in the NAHL saw their seasons cut prematurely short. In some cases, players saw their junior hockey careers come to an end as well. However, the NAHL got together a decided to highlight some of those players, who were born in 1999 and were in their final season of playing junior hockey.
As a result, we present a new series entitled: 50 players in 50 days
50 players in 50 days will select 50 players from each of the 26 NAHL teams this past season that were born in 1999, are currently uncommitted, and deserve some recognition during their time spent playing and developing in the NAHL. Over the course of the next 50 days, we will take time out to look at their accomplishments, review their season, and provide some background on their NAHL careers. Players will be initially highlighted in alphabetical order by team. Enjoy!
Emil Gabrielson, Forward, Fairbanks Ice Dogs
Emil Gabrielson
, 20, had a successful and busy season in the NAHL during his first experience playing junior hockey in the United States. The 6'0/212 lbs. native of Gavle, Sweden, put up 23 points in 45 games between three teams during the 2019-20 season.
Gabrielson began the season with the Maryland Black Bears, where he played in five games with the club in September, recording one goal.
He was then traded to the New Mexico Ice Wolves, where he flourished, posting 17 points in 30 games as one of the offensive leaders for the expansion Ice Wolves.
However, right before the trading deadline, Gabrielson was dealt to the Fairbanks Ice Dogs, who were trying to sure up their offense for another run at the Robertson Cup. While in Fairbanks, Gabrielson had five points in 10 games.
He also was selected to and played in the 2020 NAHL Top Prospects Tournament for the South Division team, where he had one goal in two games.
"Emil was a welcome addition to our hockey club late in the season. He was going to be a huge component for us as we looked to make another run getting to the Robertson Cup. He is going to be a very good college hockey player," said Ice Dogs head coach Trevor Stewart.
Prior to playing in the NAHL, played youth and junior hockey in Sweden for the Malmo Redhawks.